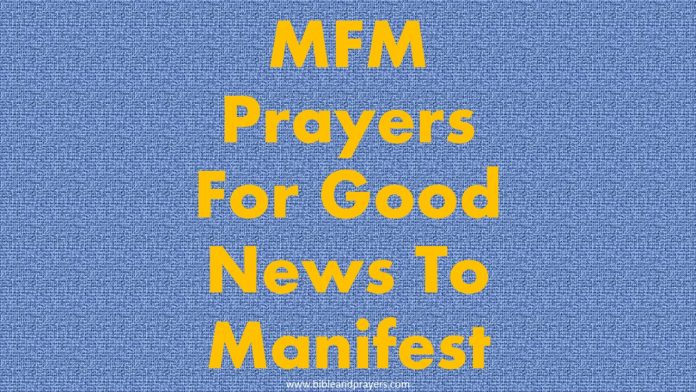 MFM Prayers For Good News To Manifest
Luke 1:45 And blessed is she that believed: for there shall be a performance of those things which were told her from the Lord.
Do you have a particular prayer point that you have been praying for years? Do you have an expectation in career, finance or even in your spiritual life? These 40 MFM prayers for good news to manifest speedily shall cause your testimony to spring up in the mighty name of Jesus Christ 
As scripture says hope deferred makes the heart sick (Proverbs 13:12) when an expectation refuses to manifest due to certain conditions one cannot help but be discouraged hence when a desire comes up as it is like a tree of Life.
I don't know what your expectations are or how long you have been expecting that good news, what I do know is that the word of God assures that when you call upon his name he will not only answer you but he will also show you great and Mighty things you do not know (Jeremiah 33:3)
As you pray these 40 MFM prayers for good news to manifest, hindrances against your prayers shall be exposed to you and you will receive insight to know what exactly you need to do to receive the manifestation of expected good news in Jesus mighty name
Just as David inquired of the lord and the Lord directed him on what to do (1 Samuel 30) you'll be asking that the Lord will direct you on what to do specifically so you can receive the manifestation of your good news just as David and his men got back all that they lost.
The scripture also tells us that God is able to do exceedingly abundantly above all you can ask or think according to the power at work in you (Ephesians 3:20) so are you ready to receive your expectations let's proceed to the MFM prayers for good news to manifest.
MFM Prayers For Good News To Manifest
Father i magnify your holy name for your faithfulness and your mercy upon my life and my family

Lord I bless your holy name for there is nothing impossible on to you 

Thank you Father for your word is yes and amen 

Thank you for all the prayers you have answered in the past

 Thank you for all the prayers you are working on presently 

Thank you  Father for the release of your mercy and your blessings upon my life 

Thank you for your promise to make all things turn out in my favor 

Thank you for the disappointments I have had in time past for they shall be for my good 

Thank you for frustrating the devices of the enemies concerning my life 

Thank you for giving me so much hope and joy in you, be thou magnified Lord

Father I ask for your mercy in all ways I have been insensitive to your leading 

Lord please show me your mercy in everyway i have been disobedient to your instructions

Father I ask that your mercy prevail over my life and my family in the mighty name of Jesus Christ 

Oh Lord please lead me in the way I should go that I may receive my good news early

Oh lord let my adversaries be greatly ashamed in the mighty name of Jesus Christ 

Oh Lord please reveal the secrets to accessing my goodness to me in the mighty name of Jesus Christ

 Lord let my expected goodnews locate me suddenly in the mighty name of Jesus Christ

 Father let all those who have gathered to mock me in the past see you at work in my life in the mighty name of Jesus Christ 

Oh lord let your light shine on my path that I may glorify you always in the mighty name of Jesus Christ 

Oh lord please reveal to me the secret of getting to the top in my career and academics in the mighty name of Jesus Christ

 Father cause my promotion to come speedily, in the mighty name of Jesus Christ 

Oh lord in your mercy uplift me in this season in my career in the mighty name of Jesus Christ

 Father let all my losses be restored in double-folds in the mighty name of Jesus Christ 

Oh lord please make ways for me where there seems to be no way in this season in the mighty name of Jesus Christ 

Father please help me to see what you have in store for me, in might name of Jesus Christ 

Father cause all hindrance and blockage to my blessings be removed in the mighty name of Jesus Christ 

In this season Father please  answer my specific prayer points in the mighty name of Jesus Christ

I and my family shall not be ashamed in the mighty name of Jesus Christ

I walk into the manifestation of my blessings in the mighty name of Jesus Christ 

Father please arise to fight my battles for me in the mighty name of Jesus Christ 

let all things in creation work in my favour in the mighty name of Jesus Christ 

oh lord let my destiny helpers and lifters locate me speedily in the mighty name of Jesus Christ

My expectation shall not be cut short in the mighty name of Jesus Christ 

My results will supersede my expectations in the mighty name of Jesus Christ

I refuse to fail in life and destiny in the mighty name of Jesus Christ

 I am going beyond borders in the mighty name of Jesus Christ

 My good news shall not elude me in this season in the mighty name of Jesus Christ 

I shall not miss my time of visitation in this season in the mighty name of Jesus Christ.

It is well with me and all that concerns me in the mighty name of Jesus Christ

Thank you Jesus for answering my prayers