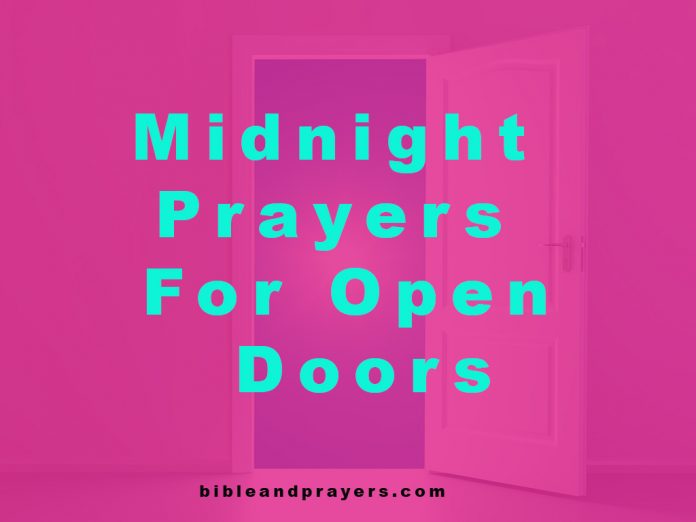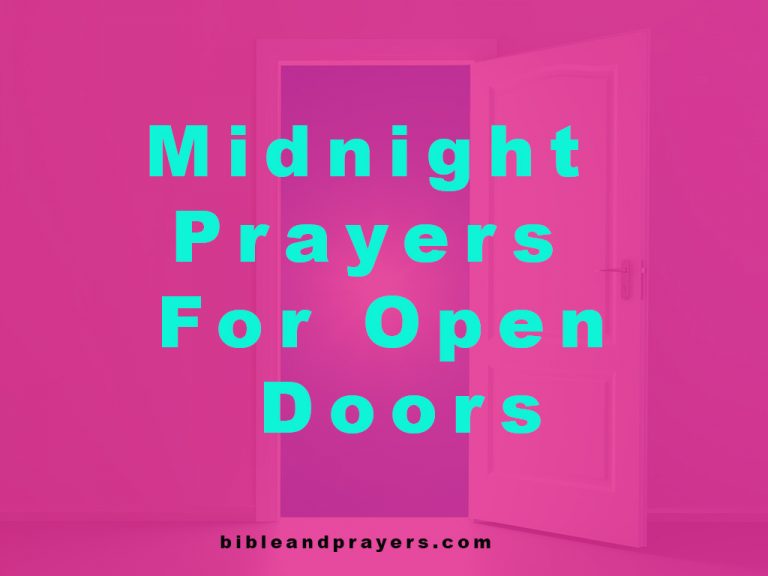 Midnight Prayer For Open Doors
Revelation 3:20
Behold, I stand at the door, and knock: if any man hear my voice, and open the door, I will come in to him, and will sup with him, and he with me.
John 10:7
Then said Jesus unto them again, Verily, verily, I say unto you, I am the door of the sheep.
Jesus is the door that we must enter to get comfort, peace, rest, protection and salvation. Jesus has the power to
open the doors
that have been shut by the enemy and also has the power to shut any doors that have been opened against us. That's why he says nothing that is difficult for him to do. When he tells you the doors are opening for you, keep thanking God because God has done great things.
The Bible says, if you can keep on knocking the doors with your prayers, the wind of the Holy Spirit will open it. Some great doors may not open in the day but at midnight. Some doors may open wide when you conduct series of midnight prayers. In Luke 6:12, And it came to pass in those days, that he went out into a mountain to pray, and continued all night in prayer to God. The
midnight prayer for open doors
will bring about freedom, deliverance and breakthrough.
Acts 12:11-14 says that Peter had been put in prison.  King Herod had been pursuing his life for destruction; but an angel came and delivered Peter out of the prison.  He went to Mary's house and persistently knocked on the door until it was opened. In this season you must be persistent. You must push. You must press forth until something happens.  You are so close to your breakthrough.  Do not give up.
In John 10:7 says that Jesus is the Door.  If Jesus is your door, who can stand against it? Nothing can touch you!  1 Corinthians 16:9 says, "For a great door and effectual is opened unto me, and there are many adversaries." Great and mighty doors have been opened unto you but there are many enemies.
In Acts 16:37-39, the devil thought he had Paul and Silas locked up; but at midnight the miracle came.  In your darkest hour, God will bring you out!  In 2 Chronicles 20:1-24, a door of destruction was prepared for King Jehoshophat; but because of how he prepared himself, that door was opened to his enemies instead.  Jehoshophat sought the Lord, fasted, prayed, and appointed singers to radically praise the Lord.  The enemies began to kill themselves.  Confusion went to the enemy's camp.  No one survived.
Perhaps they have seen your greatness.  They have seen you shine and want to stop you—but a thousand shall fall at your side and ten thousand at your right hand (Psalm 91:7).  God has opened doors of opportunity, success, abundance, and elevation for you.  All it takes is for you to fight the battle. Isaiah 22:22 says, "And the key of the house of David will I lay upon his shoulder; so he shall open, and none shall shut; and he shall shut, and none shall open."
 David took authority over Goliath.  God says, "I know thy works: behold, I have set before thee an open door, and no man can shut it: for thou hast a little strength, and hast kept my word, and hast not denied my name" (Revelation 3:8).  Because you have not denied Him, He will set you free in your job, your business, or your marriage.  If it has seemed like doors have been shut against you, God has something better for you, like we find in the story of Job. God was listening to him. Better things are coming your way.
There are many doors that exists both in the physical and spiritual realm. There are doors that looks beautiful on the surface but when you pass through it, it takes away something from you immediately (Prov 14:12). While there are some doors that looks ugly on the outside path, but once you enter through it, you will find lasting blessings . However, There are some doors are not God's will for your life to enter them and God closes it for your safety and protection. God knows everything and He knows if you're on a path that leads to danger.
For example, we have some cases where God has been knocking to enter into people's life without the doors being opened., we lost divine visitation due to distraction, lack of discernment and mostly our negative attitudes. The truth is, God has opened the doors of many people right from the time they had that sweet dreams at the hours of the night, but because they didn't follow it up with midnight prayers, the great doors closes back again. May your destiny doors never close or shut against you and your loved ones, in Jesus name.
Do you feel some bad doors have been opened against you? Do you find yourself walking through a door God has warned you not to go? Have you ever had a revelation or dream where as you are about to enter through the door, it shut against you repeatedly or the door refuses to open? I want to let you know that you are not the only one facing this type of issues.
If these are one of your experiences of life, then you need to embark on these midnight prayers for door opening. The Word of God represents spiritual keys for the opening of diverse doors for God's people (Matt. 16:16-19; Luke 11:52a). I decree, if there is any strongman that's always shutting down your doors, they shall give up and open your destiny doors wide open for your destiny fulfillment as we pray this midnight.
MIDNIGHT PRAYERS FOR OPEN DOORS
1. As I open my door, I command the door of my marriage, be opened unto me, in Jesus name.
2. As I open the door of my house, I shall receive good news from an expected personality, in Jesus name.
3. As I open my door, let there be a divine visitation in my work, in my workplace, in Jesus name.
4. As I open my door, let every bad spirit associated with me, depart from me, in Jesus name.
5. As I open my door, let success and promotion be attached to my life, in the name of Jesus.
6. As I open the door of my workplace, the power of God shall destroy every enemy of progress, in Jesus name.
7. As I open my door by faith, I declare that I shall enjoy the favour of God and all men, all the day of my life, in Jesus name.
8. As I open my door, my God shall supply all my needs according to His glory in Christ Jesus, in Jesus name.
9. As I open my door, I shake out all evil inheritance and curses troubling my life, in Jesus name.
10. As I open my door, let everything that represent sorrow, setback, stagnation, shame come out of my life, in Jesus name.
11. Holy Ghost fire, blood of Jesus Christ, purge and clear obstacles away from my finances, in the name of Jesus.
12. Oh Lord, open by fire every door shut against my prosperity/investment, in Jesus name.
13. The divine keys to open my financial breakthrough doors are released by fire in Jesus name.
14. Let the fire of God break the witchcraft house storing my financial blessings, in Jesus name.
15. Any evil personality tying down the works of my hands, catch fire, in Jesus name.
16. My financial destiny, where are you? arise and locate me, in the name of Jesus.
17. I release financial open doors and happiness in every area of my life, in the name of Jesus.
18. Every evil wind, delegated to blow away the harvest of my efforts dry up and back fire to senders, in Jesus name.
19. All my enemies, hear the word of the Lord, you must surrender in shame, in Jesus name.
20. Altar of poverty assigned against my prosperity, I set you ablaze, in the name of Jesus. 21. Father, cause the economy of this nation to favour me in my business in Jesus name.
22. I break and loose myself from every collective curse and setbacks, in Jesus name.
23. Anyone that has taken anything from me with the intention to harm me, be disgraced, in Jesus name.
24. All doors of goodness that have been closed against me , I command it today to open in Jesus name.
25. I curse every trace of poverty in my life in Jesus name.
26. Let all demonic hindrances to the sales of my products be totally paralysed, in the name of Jesus.
27. Fire of God locate and open every closed door against my finances, in Jesus name.
28. Every road block on my way of achievement, break and scatter in Jesus name.
29. Any door of breakthrough that I have been knocking over the years, open by fire in Jesus name.
30. Any embargo on my access to success, be lifted in Jesus name.
31. Every strongman attacking me at the edge of  breakthrough, fall down and die, in Jesus name.
32. I refuse to enter through a door that God is preventing me to enter, in Jesus name.
33. Every door of my destiny that has been closed, be forever opened unto me.
34. I declare all round breakthrough and freedom in my life, in the name of Jesus.
35. O God arise and intervene in my situation today, in the name of Jesus.
36. I declare that every impossible situation possible, in the name of Jesus.
37. I receive the keys to open every closed doors in every area of my life, in Jesus name.
38. O Lord, let my life disgrace every satanic power against me in Jesus name.
39. Let all my problems pass through this door today, in Jesus name.
40. O Lord, command solution to every difficult situation in my life, in Jesus name.
These are 40 midnight prayers that will open your doors (John 10:9). Take them repeatedly and it shall bring lots of signs, wonders and miracles in your life, in Jesus name.
Thanks for reading. Kindly subscribe to my channel to watch powerful videos on dream interpretations and warfare prayers.Evangelist Joshua TV

Kindly watch Evangelist Joshua powerful videos on YouTube Subscribe now