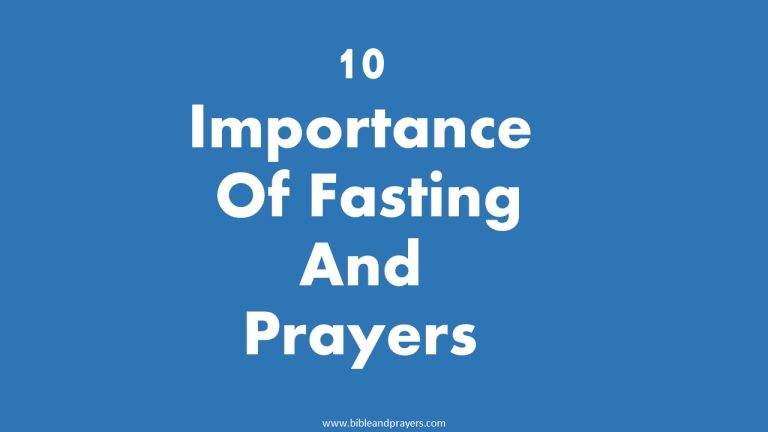 10 Importance Of Fasting And Prayers
KEY SCRIPTURES: Matthew 6:17-18; Philippians 4:6-7
Philippians 4:6-7 "Do not be anxious about anything, but in every situation, by prayer and petition, with thanksgiving, present your requests to God. And the peace of God, which transcends all understanding, will guard your hearts and your minds in Christ Jesus."
INTRODUCTION
Fasting can be defined as abstinence from food, water, or general pleasures of the flesh in order to consecrate and purify oneself to build more intimacy with God. Praying is the act of secluding oneself in solitude to enable one to communicate with God effectively. In Christianity, the act of fasting and prayer becomes a necessity as one needs to separate the spirit man's need from that of the physical man. Fasting and prayers go together because they help to create a life that is disciplined enough to live in this sinful world and connect more to God thereby drawing power from him daily without relying on one's strength alone. When one engages in fasting and praying, faith is being activated and expressed, spiritual hunger and power can be gotten and fulfilled. It will help you to overcome sin, bad habits, and help open your eyes to things that are displeasing to God in your life. Fasting and prayers helps one to reconnect with God in a higher and deeper realm. Fasting and prayer are very biblical, and they are very important because they help us as Christians to tune our mind back to the things of God and His commandment. Fasting and prayers help to build our Christian faith, our ministry and to run the race set before us successfully. One will just be a prey to the devourer if one doesn't set out time to fast and pray to God. Things are revealed and territories are conquered through the practice of fasting and engaging in prayers. In the bible, we saw that before victories are won, fasting and prayers have already been made which is an indicator that as a Christian, you can't be nonchalant about fasting and prayers. We grow spiritually when we fast and pray as a believer.
Fasting without praying is just a mere hunger strike but the combination of the two gives a staggering result. Fasting and prayers rid one of self and pride and make us to always submit to the leading of the Holy Spirit. Fasting and prayers helps to restore or strengthen one's intimacy with God which will enable one to humble oneself in the sight of God. Fasting and prayers means you are surrendering all to God and allow Him to take Sovereignty in your mission and vision of earth. Without fasting and prayers, one can be a prey to the enemy and end life as an unprofitable servant here on earth. Fasting is a deliberate act which shouldn't be forced or coerced into. We have different importance of fasting and prayers and in this article, 10 of such importance will be mentioned.
TO BUILD A GREATER INTIMACY WITH GOD
Fasting and Prayers helps to build a greater intimacy with God. One gets to learn more about the ways and manners of God. During that process of fasting and praying to God, deep things about one's life are revealed to avoid making costly mistakes or making bad decisions in every area of life. One's spirit and soul enjoy a deeper joy because one is fulfilling the desires of God for one's life. One learn to know the will of God and ways to achieve those wills for one' life also.
2. PREPARE ONE FOR GOD'S GIVEN PURPOSE
Fasting and prayers enables one to prepare for one's God given purpose in life. With fasting and prayers, mission and vision of existence on earth are revealed and tools to prepare for them are released into one's life as one journey through life with God. God created everyone on earth for fulfil purpose and only fasting and prayers can assist you to know and fulfil your own purpose.
3. IT BRINGS SPIRITUAL CLARITY
Fasting and prayers helps to bring spiritual clarity on some issues that might be bothering us as Christians. It could be a dream or vision that is given but when the meaning is not clear or understood, fasting and prayers can enable you get clarity of such dream or vision and be able to make the best decisions to life a successful Christian life. Fasting and prayers can help one to avoid this century culture and have deep spiritual discernment on things. Fasting and prayers rid one of negative mindsets and get stable answers to all prayers. There is always clarity on things relating to God the more we fast and pray as a Christian.
4. TO HAVE EDGE OVER PHYSICAL THINGS
Fasting and prayers enable one has edge over physical things. Life is controlled by the spiritual and to be relevant in this life, fasting and prayers are essential because they help to reveal the deep things of the spirit world to one and that will make you have an edge over physical things around one. One can't just live life physically and be successfully in it because at a point without the revealing of the spirit things, one will fall prey to the devil and his craftiness which is why fasting, and prayers are very importance in the life of a Christian.
5. TO REKINDLE OUR HEART TO SPIRITUAL REVIVAL
Fasting and prayers rekindle the Holy spirit fire in us for a greater revival. One becomes agent of change and intercessors during fasting and prayers. They make us as Christians to be sensitive in the realm of the spirit and towards the needs of others. Fasting and prayers revive and refresh our hearts as Christians spiritually.
6. TO OVERCOME THE CRAFTINESS OF SATAN
Fasting and prayers helps believers to be overcome the evil craftiness of Satan and his agents of destruction. Fasting and prayers will destroy the plans and the agenda of the evil ones over one's life, family and ministry thereby making one overcome in all things. 
7. TO TRANSFORM AND BUILD GREAT PRAYER ALTAR
Fasting and prayers helps to transform and build great prayer altar for a believer which enables to have richer and more personal experience with God.
8. TO SEEK DIVINE GUIDANCE AND DIRECTION: Acts 14:23; 13:2-4
As believers, fasting and prayers are essential because they help to seek divine guidance and direction in life as a whole and the ability to intercede accurately for people's needs too. They help to abstain from sin too during the process of following the divine direction given.
9. TO OPEN DOORS OF BLESSINGS
Fasting and prayers helps to open the doors of blessings to believers because through the practice, one prays down the blessings of God on things and the prayers come to fulfilment.
10. SPIRITUAL TOOLS TO DESTROY EVIL PLANS OF THE ENEMY
Fasting and prayers are important because they can be used as devised spiritual tools in fighting and to pull down the satanic strongholds to destroy the evil plans of the enemy over a believer's life, family, ministry, country, and the world at large.
CONCLUSION
Every Christian must cultivate the act of fasting and prayers to enable them seek God in humility and turn away from things that keeps them too busy for God's use. Fasting and prayers could be declared by the ministers of God but as a believer, you must have a personal time for fasting and prayers which is essential and intentional to enable you follow in the footstep of your savior, Jesus Christ