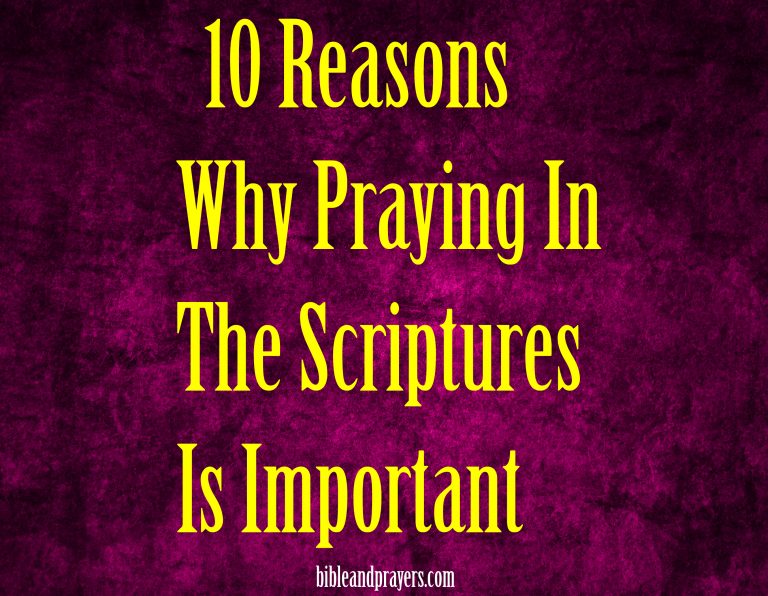 10 Reasons Why Praying In The Scriptures Is Important
KEY SCRIPTURES: 2 Timothy 3:16-17; Psalms 119:105
2 Timothy 3:16-17 "All scripture is given by inspiration of God, and is profitable for doctrine, for reproof, for correction, for instruction in righteousness. 3:17 "That the man of God may be perfect, thoroughly furnished unto all good works."
INTRODUCTION
Prayer is an act of communication between God the Creator and mankind the created. It is through prayers that an intimate relationship with God is being built. Prayer is not a technique of escape from conflict but a stimulus to growth in the spiritual realm. The purpose of praying is to make praises or requests known to God. It is through praying to God that one grow a deeper relationship with Christ and know how the direction of one's life should follow. Prayers breed closeness, intimacy, and comfort. 
Praying in the bible means backing up one's prayer with relevant scriptures pertaining to the request being asked during prayers. Praying in the scriptures reminds us that God is always by our side. With more scriptures being used in praying, led to a deeper faith in God. Also, praying to God is more specified when we pray in the scriptures. Praying in the bible is very important because it is often used by people in the old testament and new testament of the bible which makes prayers more effective and answers to such prayers guaranteed. Before one goes into prayers, one should endeavor to search the bible and look for relevant verses to quote regarding the request, it helps one's life to be soaked with God's word and numerous benefits follow. Praying in the scriptures forces us to read the bible and helps us to pray about a rich variety of issues in scriptural proportion. These are many reasons why praying in the scriptures is important and 10 of such reasons will be discussed in this article.
PRAYING IN THE SCRIPTURE WAS USED BY JESUS
Jesus used the Bible all the time during praying to his father, God in his time on earth and we are encouraged to follow his footsteps by also using the scriptures during prayers. We might not be able to do all the things he did on earth by praying in the scriptures is an ideal thing to follow about him since we are his children. Jesus prayed in the scripture which was recorded in the books of Matthew and Mark. Praying in the bible helps Jesus to read, study the correct scriptures and apply such to his specific situation in which we should also do to fulfill the laws of praying to God. Praying God's word back to Him helps us to pray appropriately with reference to our contexts. We can appropriate God's breathed prayers in scriptures as they match our own circumstances, and this helps to streamline our prayers to specific needs.
2. IT GLORIFIES GOD: John 15:7-8
Jesus told us to abide in him so that we can bear many fruits but how do we abide in Jesus Christ if we don't know the word of God. From the bible verse, it means we should pray scripture informed prayers. Doing so helps us to bear many fruits and bearing such fruits glorifies God, our father. When we pray in the scriptures, God's word remains in us and dwells richly in us for daily Christian living.
3. IT HELPS TO FOCUS ON IMPORTANT THINGS:
Praying to God is much more than asking requests from God all the time. When we have a list of concerns to pray to God, we can begin to pray amiss for selfish reasons if we don't pray in the scriptures. Even when we have a list of requests and we search the scriptures for them, the Holy Spirit helps point out the relevant requests that are spirit-inclined and that helps one to focus on important prayer points because they have spiritual backing.
4. IT HELPS TO FOCUS ON PRAYERS
We might have the best intention during praying to God but oftentimes, the mind may wander away on irrelevant things or we might even fall asleep during prayers. Praying in the scripture is a practical way to stop mental drifting. When we try to pray without having the right word to guide our prayers, we begin to drift to negative thoughts but if we are praying the scripture, it gives room to pause, open the verse and turn it into prayers which makes you pray all day that way.
5. IT HELPS PRAY WITH CONFIDENT:
Since scripture is void of error and entirely truthful, it protects from making errors, so one can't go wrong when you pray in the scripture. Praying in the scripture builds confidence because it is safe, secure and on a firm ground since scripture expresses God's will, character, and promises. Praying in the scriptures means you are keeping God's will and there is that confidence that you know that he hears you if you ask anything according to His will.
6. IT KINDLES OUR AFFECTION FOR GOD:
Bible is meant to inform us, illuminate our thoughts of God, and ignite our affections for God. When praying in the scriptures, it brings one to a great level of confession, thanksgiving, supplication or intercession and the inner man is nourished and strengthened. Praying in the scriptures not only give room for meditation, but it is also profitable for one's inner man
7. IT KEEPS PRAYER FRESH AND SPECIFIC:
One can get tired or sleep when you pray with a particular pattern always but praying in the scripture helps to keep the prayers fresh and specific. Praying in the scripture helps take the words of the scripture and use them as your own words or as prompters for what you say to God.
8. IT KEEPS PRAYERS IN SPIRITUAL PROPORTION:
Praying in the scripture makes us pray according to the various issues thereby forcing us to pray about a rich variety of issues in spiritual proportion. We don't go out of scriptures when we pray using it. It directs the level of our prayers and directs us to pray in the right proportion needed for God to answer us.
9. IT HELPS ONE TO EXPRESS ONESELF APPROPRIATELY:
Using the scriptures during prayers helps to use God's own word to speak to Him. You are more expressive and direct using His words. It shows we have a more direct and intimate relationship with God because we know His words to any given situation or issue.
10. IT HELPS TO UNDERSTAND SCRIPTURE BETTER:
When you pray in the scriptures, it means you have taken time to study, meditate and understand the verses in the word of God. It also means you have an idea of what that verse is communicating to you. The process of praying in the scriptures forces one to ask questions about the scriptures and seek knowledge about it. This helps you to know and understand certain verses in the bible and build your knowledge of the word of God.
CONCLUSION
One sure way to pray in the scriptures is by prayerfully meditating on passage by passage of the word of God. Seek different knowledge of the word by using various bible versions and you will see that prayers are more meaningful and effective answers are received when you pray in the scriptures.