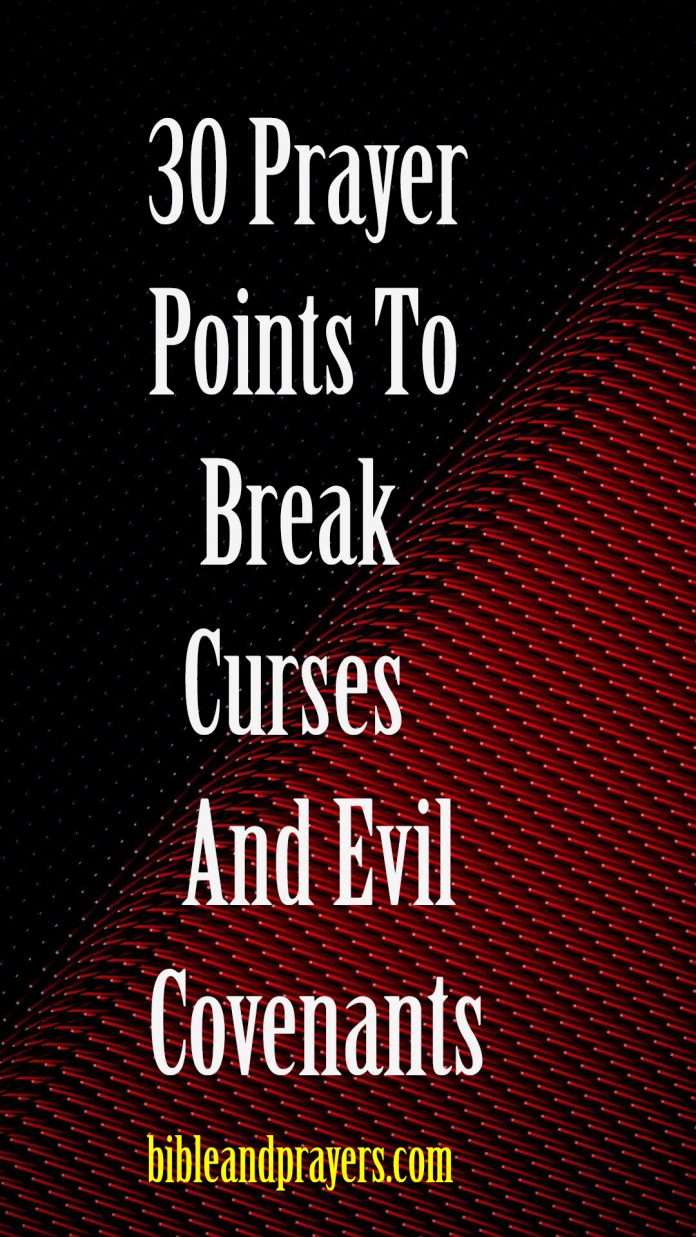 30 Prayer Points To Break Curses And Evil Covenant
Psalm 68:1-3
"Let God arise, let his enemies be scattered: let them also that hate him flee before him.  As smoke is driven away, so drive them away: as wax melteth before the fire, so let the wicked perish at the presence of God. But let the righteous be glad; let them rejoice before God: yea, let them exceedingly rejoice".
Kindly watch Evangelist Joshua powerful videos on YouTube
Subscribe now
Have you been experiencing hardship in your family? Is there a particular evil trend your family is known for? Is it poverty, sickness, diseases, marital delay, bareness, gluttony?  
Does it seem like your family is operating under a particular siege that has been for years? Do you often have same night mares with your siblings, yet you don't know where it's all coming from?
Curses and evil covenants are responsible for many problems and challenges faced by many homes in this world, and this is why it is important as believers that we pray without ceasing (1 Thessalonians 5:17), 
Curses are usually placed on people as a result of their unacceptable actions done towards a deity, or a powerful personality. An example of someone who was cursed in the Bible is Gehazi (2 Kings 5:20).
Also, evil covenants are mostly birthed through spiritual or physical agreement between two parties, with obligations to be met, and failure to meet these obligations often bring terrible consequences upon the one who defaults and most likely generations after him.
The most dangerous aspect of Curses and evil covenants is that it goes beyond affecting the one who is directly involved, into generations after him or her, as the scripture states in:
Number 14:18 "The LORD is longsuffering, and of great mercy, forgiving iniquity and transgression, and by no means clearing the guilty, visiting the iniquity of the fathers upon the children unto the third and fourth generation". 
The good news here is, we now have an advocate before the father, Jesus Christ himself, whose blood speaks better things than the blood of Abel, (Hebrews 12:24) and as you call upon His name wholeheartedly, every knee shall bow and every tongue shall confess Him as Lord, (including those ancestral spirits who are monitoring the curses placed on your forefathers and the demons who are working to ensure that the consequences of their evil covenants reign in your home) 
As you rise in these 30 prayer points to break curses and covenants like a warrior, be ready to see positive changes in your life and family, for we know that God shall arise and all your oppressors shall be destroyed (Psalm 12:5).
Before going through the prayer points to break curses and evil covenants, go through the important steps below:
Confess your sins and accept Christ as your personal Lord and savior

(John 3:16)

Recognize and destroy every ancestral symbol around you.

(Deuteronomy 12)

Recognize and pray against every common evil character trait in your family, and choose to take on the fruits of the spirit

(Galatians 5:19-25).

Fast and pray frequently until it is evident that the evil trend has stopped,

(Matthew 17:21)

Be at peace with all men (Romans 12:18)
NB: Meditate on the introductory test before you take the prayer points.
30 Prayer Points To Break Curses And Evil Covenant
Oh Lord, I thank you for this great revelation through your word, all the glory belongs to you Lord, in the mighty name of Jesus Christ

Father I thank because you are set to deliver me and my family from evil curses and covenants, blessed be your name oh Lord

Father I ask that you show me and my family your mercy in all ways we have sinned against you and gone against your will for our lives.

Father we ask that you forgive us of all spiritual laziness and procrastination that has made this problem linger till this time

Holy spirit we ask for your help and strength to pray through to Breakthrough this day, in the mighty name of Jesus Christ

Father we ask that you arise on behalf our family, oh Lord arise like a warrior and destroy all our adversaries in the mighty name of Jesus Christ

Everything that we have engaged in, that has given these ancestral spirit stronghold in our lives, Father by your power, separate from those things , in the mighty name

Oh Lord by your mercy please block every satanic loop in our lives that is enabling these ancestral spirit gain access into our lives in the mighty name of Jesus Christ

Father arise in your anger and fury and destroy every satanic curse of poverty upon my family, in the mighty name of Jesus Christ

Every demon monitoring my family and blocking our way out of poverty, I command you to catch fire now, in the mighty name of Jesus Christ

With the blood of Jesus Christ, I pay back everything my ancestral parents are owing those evil spirits, in the mighty name of Jesus Christ

I command you to lose your grip over my family now in the mighty name of Jesus Christ

Every ancestral curse causing barrenness among the women in my family, I stand in the gap for the women in my family, and I command you to lose your grip over us, in the mighty name of Jesus Christ.

Everything our forefathers are owing you, we pay back by the blood of Jesus Christ, in the mighty name of Jesus Christ, we are no longer debtors to you.

Every monitoring spirit that is supervising my family to ensure that everyone shares in the curse of terminal disease, I command such spirit to be destroyed totally by fore now, in the mighty name of Jesus Christ

Every curse placed by your forefathers on their generations by themselves, I neutralize that curse now by the blood of Jesus Christ, because we are now in the family of Christ, those curses no longer apply to us, in the mighty name of Jesus Christ

Every evil bondage that ancestral spirit has kept me and my siblings, I command such bondage is over now, in the mighty name of Jesus Christ.

Demonic siege set against me and my siblings, I command you to give way now in the mighty name of Jesus Christ

Satanic embargo of delay and frustration, I command you to lose your grip over my family now, in the mighty name of Jesus Christ

I claim victory for my family by the blood of Jesus Christ and I decree our victory shall last forever, in the mighty name of Jesus Christ

Every evil character trait that makes us similar to our forefathers, we break free from them all by the power in the mighty name of Jesus Christ

I decree no more lack, no more delay and no more frustration in my family, in the mighty name of Jesus Christ

I decree that My family is free from every curse of barrenness in the mighty name of Jesus Christ, we shall begin to conceive and deliver babies in this season.

Every curse of depression placed upon my family, I decree that it is reversed now, by the blood of Jesus Christ, we shall be happy and be glad in life, in the mighty name of Jesus Christ.

Satanic police diverting my family blessings, I command you to be destroyed by fire, in the mighty name of Jesus Christ

I break every ancestral yoke placed upon us, in the mighty name of Jesus Christ

My siblings shall not be wanderers in life, we shall live to fulfil purpose in life in the mighty name of Jesus Christ

My siblings and I shall no longer be considered carriers of negativities, wherever we go, goodness and mercy shall follow us, in the mighty name of Jesus Christ

I decree that none shall die in my family in the mighty name of Jesus Christ

Thank you, Jesus, for answered prayers
Thanks for reading. Kindly subscribe to my channel to watch powerful videos on dream interpretations and warfare prayers.Evangelist Joshua TV