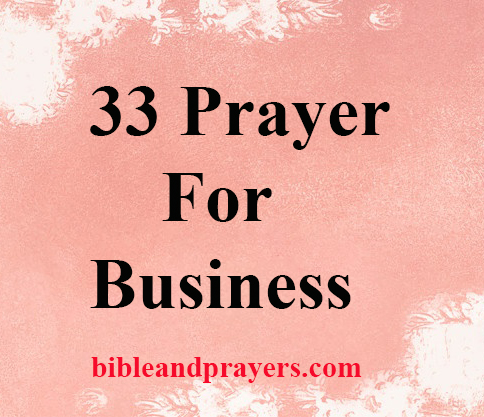 33 Prayer For Business Success
Prayer is a powerful tool that can be used for so many different purposes, including the success of your business.
If you are feeling lost and confused about how to move forward with your business goals, then it may be time to do some praying! We have provided a few prayers below on this blog post that may help you in your endeavors. The Prayer for Business Success is a prayer to move the hand of the almighty for success in business and financial breakthrough.
It's a great way to thank God for your business successes and ask Him to help you succeed in all your endeavors.
The Prayer for Business Success asks God to bless businesses with success, as well as the entrepreneurs that work hard in them.
It also requests blessings on those who are employed at a company – from executives to entry-level operatives – so that they may find peace and meaning in their lives through whatever they do each day.
Finally, it asks for protection from accidents or natural disasters that could harm employees or customers alike.
In this blog post, we will discuss how prayer can change the course of your business and make it more successful. We hope that this post inspires you to pray for your own success as well!
40 Prayer For Business
1. Prayer for Business Success: Forgive me, Father in heaven, as I use my talents and abilities to do your will.
2. Help me be a blessing to others by doing my work diligently. As I succeed here on earth; may the fruit of all that is good stay with those who benefit from it so that they too can live a peaceable life.
3. According to Isaiah 60 VS 5 "Then you shall see and become radiant, And your heart shall swell with joy; Because the abundance of the sea shall be turned to you, The wealth of the Gentiles shall come to you. I claim it in Jesus' name.
4. In Jeremiah 29 vs 11, the bible says For I know the thoughts that I think toward you, saith the LORD, thoughts of peace, and not of evil, to give you an expected end.
5. Then Isaac sowed in that land, and received in the same year a hundredfold: and the LORD blessed him. Genesis 26:12. Today I claim my hundreds of folds in Jesus Name.
6. I am the Lord thy God who heals thee. Exodus 15:26. Lord heal my business and my Finances in Jesus' name.
7. Every yoke of penury in my life, Break in the name of Jesus.
8. Every covenant of destitution, shame, poverty, and reproach that has been made from my mother's or father's house, I destroy them in the name of Jesus.
9. Every power that has been assigned to keep me wallowing in debt, I destroyed them in the name of Jesus.
10. Lord I claim my portion in Lagos, in Nigeria, in the West, East, south, North, Africa, Europe, and beyond in Jesus' name.
11. Lord bestow upon me the richest to liberate my close ties from abject poverty and bring them to the kingdom in Jesus' name.
12. Every door of opportunity that has been locked against my destiny, I command them to Open in the name of Jesus.
13. My inner man, receive the strength and the spiritual prowess to prosper in the name of Jesus.
14. Lord connects me to my destiny helpers
15. Lord gives me a multimillion-dollar idea to get wealth and prosper they kingdom come.
16. Every trap set for my business and finance, be shattered in the name of Jesus.
17. A man's gift makes way for him. Lord let the gift you've given to me makes the way of prosperity for me in Jesus' name.
18. Every spirit of lack and been broke every time, Lord cage them for my sake in the Name of Jesus.
19. I decree and declare success in business in Jesus' name.
20. Every costly mistake in Job and business that will land me in Jail or go bankrupt, I refuse to make such mistakes in Jesus' name.
21. Lord give us our daily bread
22. The power to attract unspeakable wealth and riches I tap into it and receive in the name of Jesus.
22. The mighty power that changes the narrative of Jabez and Joseph, change my narrative from grass to grace and glory in Jesus' name.
23. I can do all things through the mighty power of Christ and nothing shall be impossible unto me.
24. Lord, as I travel for meetups and business meetings, I pray that you will be my guide and protection in the name of Jesus.
25. Every financial disaster that the enemy has orchestrated against my business, family, and wealth, Catch fire in the name of Jesus.
26. Every spirit of high and low in Business, I deaden them in the name of Jesus.
27. Lord use me to greatly expand your Kingdom on earth in Jesus' name.
28. Every embargo of no mercy, placed upon me and my business, I cancel them in the name of Jesus.
29. …And Daniel had an excellent spirit, the excellent spirit to prosper in all my dealings, I receive it in the name of Jesus.
30. I arise and claim my business dominion in Jesus' name.
31. The power to double the talent you've given unto me, I receive it in Jesus' name.
32. Even though it's difficult for the cow to pass through the hole of the needle, making heaven as a prospered businessman will not be difficult.
33. Lord I accord all the glory and honor to your holy name because I know you've fortified me with unlimited breakthrough and generational riches.
Prayer helps to align your will with God's, and the power of prayer combined with faith can be an unstoppable force. Prayer not only provides guidance for what to do in difficult situations but also gives you strength when you need it most.