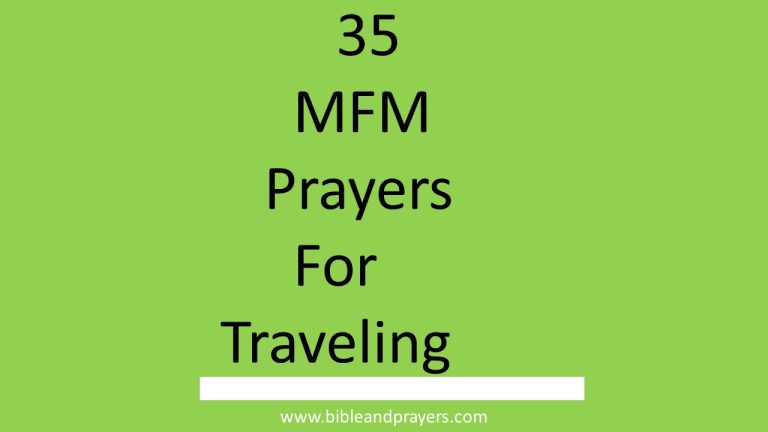 35 MFM Prayer Point For Traveling.
Psalm 91:11-14 "For he will order his angels     to protect you wherever you go. They will hold you up with their hands     so you won't even hurt your foot on a stone. You will trample upon lions and cobras;     you will crush fierce lions and serpents under your feet! The lord says, "I will rescue those who love me. I will protect those who trust in my name".
Are you planning to go on a trip? You need these 35 MFM prayer point for traveling. In these uncertain times, with high rate of terrorism and insecurity around the World, it is imperative that you hand over your journey into the hands of God before stepping out, not just only for the sake of security but also so that all your intentions for traveling will be successfully accomplished.
Regarding the matter of insecurity, scripture assures us in Psalm 91 that God has given His angels charge over us to keep us in all our ways, not some of our ways but all of our ways, so let your heart be calm even as you plan to travel.
Also, scripture says in Isaiah 41:10: "Fear thou not; for I am with thee: be not dismayed; for I am thy God: I will strengthen thee; yea, I will help thee; yea, I will uphold thee with the right hand of my righteousness",  therefore in all your ways, God is with you to protect and deliver you from all troubles and plans of the enemy.
All you need to do is to remain under the shadow of the almighty. You may be wondering how do I remain under the shadow of the almighty? It is by dwelling in the secret place of the most high, through constant study of the Word of God (Joshua 1:8) and prayers (1 Thessalonians 5:17) 
This is why in these 35 MFM Prayer for traveling, you will be praying against demonic powers that may stand in the way of your successful traveling (2 Corinthians 10:5-6), you will also be praying that the Lord will cause everything in creation to work in your favor even as you travel in Jesus name.
 So as you prepare to proceed on this journey, take these 35 MFM prayers for traveling.
35 MFM Prayers For Traveling
Father I bless your Holy name and magnify you fir this trip I'm about to embark on, blessed be your righteous name Lord

Father I exalt your holy name for your great divine provision upon my life, to you be all the glory and honor in Jesus mighty name

Lord I thank you for your unfailing grace and love upon my life and family

Father I thank you for who you are and all you have done for me and my family

Lord I bless your holy name for been my strength and support

Thank you for the privilege of been chosen to represent my organization

Thank you Lord for the purpose of this journey for it shall be accomplished 

Thank you for your good thoughts for me and my family

Thank you for your covenant of peace and protection

Thank you for your u failing mercy and peace.

Thank you for all you intend to do for me through this journey, all glory belongs to you Lord

Father I ask for your mercy in all ways I have sinned and fallen short of your glory in my actions, words and thoughts, let your mercy speak for me in Jesus mighty name

Father I ask that you show me mercy in every way I have sinned through my actions, words, thoughts and inactions, let your mercy speak for my life Lord

Lord I ask that you accompany me on this journey in the mighty name of Jesus Christ

Help me to overcome every temptation that may come my way in the mighty name of Jesus Christ

Father please help me to be focused on this journey that I may achieve my purpose of traveling in the mighty name of Jesus Christ

Oh Lord please keep me safe from all evil eyes in the mighty name of Jesus Christ

Help me by your great power to do your will even as I travel in the mighty name of Jesus Christ

I cover the road in the blood of Jesus Christ

I soak the pilot or  driver in the pool of the blood of Jesus Christ

I decree that there shall be no accident and there shall be no death in the mighty name of Jesus Christ

There shall be no sudden emergency as I travel in the mighty name of Jesus Christ

I surround myself with good and positive people as I am traveling 

I shall not be called suddenly from he for evil In the mighty name of Jesus Christ 

I decree that no weapon formed by the enemy against this trip shall prosper in the mighty name of Jesus Christ

I shall not regret going on this trip in the Mighty name of Jesus Christ

I shall not lose anything good even as I travel in the mighty name of Jesus Christ

My traveling shall bring me good tidings in  the mighty name of Jesus Christ

I shall meet good news at home in the mighty name of Jesus Christ

I shall be successful in all I lay my hands on to do in the mighty name of Jesus Christ

The devil shall not rejoice over me in this trip in the mighty name of Jesus Christ

The glory of this journey shall return to God 

All in creation shall contribute to the success of my trip in the mighty name of Jesus Christ

Bandits and terrorists will not see our vehicle in the mighty name of Jesus Christ 

Thank you Jesus for answering my prayers