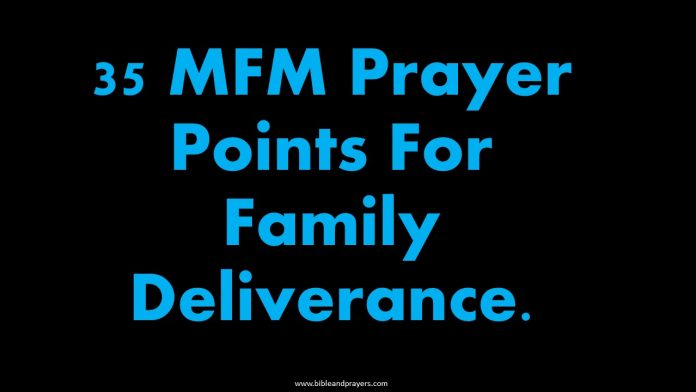 35 MFM Prayer Points For Family Deliverance. 
Psalm 68:1-3 Let God arise, let his enemies be scattered: let them also that hate him flee before him. As smoke is driven away, so drive them away: as wax melteth before the fire, so let the wicked perish at the presence of God. But let the righteous be glad; let them rejoice before God: yea, let them exceedingly rejoice.
Have you been battling with some demonic afflictions in your family? Have you been experiencing some re-occurring problems in your marriage? Does it seem like the more you pray about it, the more complicated the problem gets? What you need is these 35 MFM Prayer Points For Family Deliverance
Are you aware that there are several outstanding spiritual matters that has been in existence even before you? Many exchanges has happened between the forefathers, deities  and inevitably demons.
Although the forefathers are long gone, these exchanges, oaths, and covenants, however do not die, rather they outlive the fathers and seek to implement themselves in the lives of the children for generations, and until there is a realization on the part of the children, it will be quite difficult for family members to be delivered from the aftermath of these demonic transactions.
The demons in charge of those altars where evil oaths and covenants have been made with the fathers often seek to enforce evil happenings in the family line as a cycle, i.e a re-occurring evil circumstance.
This is why in some families, there are trends of, for example; men dieing before their wives, death of every first child, death of family members through road accidents etc 
Importantly, you need to first identify the evil trend in your family, and in order to get rid of these evil trends, you have to pray these 35 MFM Prayer Points For Family Deliverance fervently, as scripture says in Matthew 11:12, you need spiritual violence to take it by force, I.e, you must be determined to take back all that the devil has stolen from your family, on the ground of evil covenants.
Also, another important weapon you need to fight for your family's deliverance is the blood of Jesus Christ. Remember you are dealing with strong demonic forces whom the forefathers have made blood covenant with, so a greater blood and a greater covenant is needed to break the old covenant and it's consequences, hence the need for the blood of Jesus Christ.
As scripture says in Revelations 12:11, "They overcame by the blood of the lamb", therefore the blood of Jesus Christ is the chain breaker, and an effective weapon of war against demonic bondages and affliction.
As you pray these 35 MFM Prayer Points For Family Deliverance, may the Lord arise in His mighty power to save, deliver and restore your family completely in the mighty name of Jesus Christ
Let's proceed to the 35vMFM prayer points for family deliverance.
35 MFM Prayer Points For Family Deliverance
Lord I bless your holy name for your great love upon my family, thank you for all you have in store for us, all glory belongs to you Lord

Father I thank you for all you have done for us and all you will get do, all honor and adoration belongs to you Lord

Blessed king I thank you for been our fortress and hope even in the midst of our trials blessed be your righteous name

Father I thank you for with you all things are possible, all glory belongs to you. 

I know of a surety that no demonic power can withstand you

Lord so I bless your holy name for my the deliverance of my family

Lord I thank you for the deliverance you have assured us in your Word

Thank you because as I pray this day, the stronghold of darkness shall be broken concerning my family in the mighty name of Jesus Christ

Lord I thank you because all the authors of  evil in my father's house shall receive judgment by fire in the mighty name of Jesus Christ 

Lord I bless your holy name for all that you intend to restore unto us from now, all honor to you Lord

Father I plead your mercy concerning me and my family

I know we all have sinned and fallen short of your glory, please let your mercy speak for me in Jesus name

Lord please show us mercy in every way we have gone in the ways of our ancestors please forgive us Lord.

Father please forgive us in all ways we have followed the evil suggestions of the enemy against your will

Father let your mercy pull us out of this family bondage in the mighty name of Jesus Christ

Lord by your power let every stronghold of delay be broken in my family in the mighty name of Jesus Christ

Let everyone in my family seeking the fruit of the womb carry their children now in the mighty name of Jesus Christ

For many of us who have been held down by the power of poverty, oh Lord let there be liberation now I'm the mighty name of Jesus Christ

Father arise in your mercy to make ways for us out of every unpleasant situation in our lives in Jesus name

Oh Lord arise to destroy every wicked manipulating our times in destiny in the mighty name of Jesus Christ

Oh Lord by your power, sort us out in the mighty name of Jesus Christ

Deliver us oh Lord from the hands of those who have sworn that they will see our end in Jesus name

Oh Lord please restore all our years that has been lost to evil altars in the mighty name of Jesus Christ

Every demonic transaction that our forefathers have done against us, we command it to expire now by the blood of Jesus Christ

Every evil orchestration from the pit of hell against me and my family, I command you to expire now by fire in the mighty name of Jesus Christ

I decree that the grip of the enemy over my family is broken now by the blood of Jesus Christ

I decree that we shall begin to eat the fruits of our labor in the mighty name of Jesus Christ

We shall no longer live as paupers in the mighty name of Jesus Christ

We shall bring glory and honor to the name of the Lord in Jesus name

My family shall begin to live in the life God ordained for us in Jesus mighty name

There shall be no death, no sickness, and evil shall not prevail in my family in Jesus name

We are more than conquerors through Christ Jesus, no more affliction in our family in Jesus name

We break free from the yoke of poverty in the mighty name of Jesus Christ

We walk in the freedom wherein Christ has made us free in the mighty name of Jesus Christ

Every bondage in my family is  broken in the mighty name of Jesus Christ

We receive the wisdom to continuously work in this freedom in the mighty name of Jesus Christ

No demon shall deprive us of our inheritance in Christ in Jesus name

We walk in daily loads of benefits in the mighty name of Jesus Christ

I decree that it is well with me and my entire family in the mighty name of Jesus Christ 

Thank you Jesus for our great deliverance