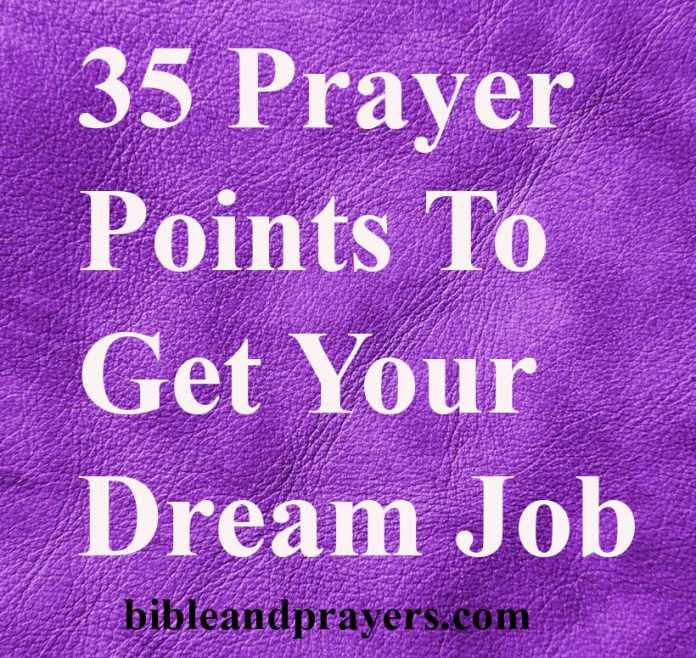 35 Prayer Points To Get Your Dream Job
Proverbs 10:24: The fear of the wicked, it shall come upon him: but the desires of the righteous shall be granted.
Do you have a dream job? Do you see yourself qualified for that dream job? Have you been preparing yourself academically and psychologically for that dream job? Here is the right place for you as we will be sharing with you 30 prayer points to get your dream job
Kindly watch Evangelist Joshua powerful videos on YouTube
Subscribe now
What is a dream job?
A dream job is simply that kind of Job that you have always desired to have, it could be the position of an HR, or the position of a manager. It could be about getting employed in one of the top companies in the country, or  been employed by one of the most lucrative business sectors in the country, for example the oil sector.
  However in these prayers, we will be addressing two categories together: those who are praying to be promoted from their present position to their dream position in their office and those who do not have a job yet but are desiring to get their dream job and position in their dream company.
So you may be wondering: how can I get my dream job
Align your desires with the will of God: ensure that your dream Job is what God wants for your life, for instance, if God is calling you to be a full time minister of the gospel and you are praying to be a chartered accountant, your prayers and desires may not come to reality because it does not align with the will of the God for your life.
Be well prepared: when you aspire to get to a certain position in life, it is important for you to prepare yourself well for that position. Read books, ask questions, make inquiries on what it takes to be qualified for that position and do all you can morally to get prepared for opportunities. Luke 14:13
See Challenges as tools of growth: Sometimes the challenges we go though in life are meant to prepare us for that particular plan God has for us(for those whose dream jobs are in line with God's will). Joseph for instance, was sold into slavery, made to serve as head servant at Potiphar's house and sent to prison, but in the end, he became the Prime Minister in Egypt, a position that he probably never thought he would get to. (Proverbs 24:10)
Be diligent in all you do, take the job you do now seriously, and keep working hard, your work will be noticed and someday your will be recommended for your dream job. Proverbs 22:29
Treat People Well: This is a very important factor if you want to get your dream job, ensure that you are pleasant, respectful and cheerful at your place of service, and outside work environment, good character and ability to treat people well has brought many to their desired dream Job and position. (Romans 12:18)
Pray Until It Happens
The bible encourages us to pray without ceasing,(Psalm 2:8) God also assures us in His Word that when we ask He shall give the heathen for our inheritance and the uttermost part of the earth for our possession, therefore, there's nothing too hard that God Cannot give unto you, as you pray these 35 prayer points for your dream job, may you get it speedily, in the mighty name of Jesus Christ.
35 Prayer Points To Get Your Dream Job
Oh Lord I thank you for sustenance, your mercy has kept me alive till this time, blessed be your name in the mighty name of Jesus Christ

Oh Lord I appreciate you for your love and care over me and my family, thank you because only your counsel for me shall stand

Thank you Jesus because it is your will for me to prosper and be in good health even as my soul prospers, I thank you oh Lord in Jesus mighty name.

Father I ask that you please forgive me and let your mercies speak for me in all ways I have wasted golden opportunities in the past, in the mighty name of Jesus Christ

In all ways, I have not been patient enough in the past to learn all that you want me to learn so as to be well prepared for my dream job, Lord please forgive me and have mercy upon me, in the mighty name of Jesus Christ.

Oh Lord I ask that you open my eyes to see the wonderful opportunities of my dream job that you have placed around me in the mighty name of Jesus Christ

Oh Lord I ask that you link me up with people, places and events that will connect me with my dream job in the mighty name of Jesus Christ

Oh Lord please create a space for me in that company I really desire to work(mention the name of the company), in the mighty name of Jesus Christ

Father please create a space for me at the top in this my organization, and put it in the heart of my superiors to recommend me to the management of the company where I work now, in the mighty name of Jesus Christ

Father let your light of recognition shine on me and all that I have done well in my organisation that I may be chosen for that my dream position in my office, in the mighty name of Jesus Christ

Father put it in the heart of the people I know, to recommend me to authorities that will offer me my dream job, in the mighty name of Jesus Christ

Every evil personality who is consistently speaking against me in the face of my destiny helpers, oh Lord, let their mouths be shut permanently, in the mighty name of Jesus Christ

As there will be vacancies of my dream job in different companies, and as I go for interviews, I receive grace to be preferred above all other applicants, in the mighty name of Jesus Christ

I receive divine wisdom to sustain my dream job when I get it, in the mighty name of Jesus Christ

I decree, every evil altar planning my downfall, be destroyed now, by fire, in the mighty name of Jesus Christ

I command all things in creation to begin to work in favor of me getting my dream job, in the mighty name of Jesus Christ

I decree that my dream job shall come with all it's full benefits and honor for me , in the mighty name of Jesus Christ

Whoever is sitting on the position of my dream job, in that company the Lord has provided for me, I unseat them by fire in the mighty name of Jesus Christ

I decree that the forces of darkness shall not deprive me of my heart desires regarding my dream job, in the mighty name of Jesus Christ

Satanic meetings going on in order to hijack my dream job, I scatter you all by fire now, in the mighty name of Jesus Christ

Powers of hell militating against my promotion to my dream position in my organization, I command you to fail now, in the mighty name of Jesus Christ

I decree that because I am the righteousness of God in Christ Jesus, the desires of my heart shall speedily manifest, in the mighty name of Jesus Christ

Favor of the Lord, encompass me like a shield and move me to my desired position in my career, in the mighty name of Jesus Christ

The spirit of error that makes one to misbehave at the edge of success, I reject you now, in the mighty name of Jesus Christ

Every test that the Lord is taking me through presently in order to prepare me for my dream position in career, I receive the grace to patiently go through it till the end, in the mighty name of Jesus Christ

I receive grace to still be humble and teachable even after I I have gotten my dream job, in the mighty name of Jesus Christ

I receive divine wisdom to know the right words to speak to my colleagues and superiors when I get my dream job in the mighty name of Jesus Christ

Favor of the Lord go before me, everyday as I step out, let the heart of men and women naturally desire to help me in this season of my career upliftment , in the mighty name of Jesus Christ.

I receive grace to be a solution giver like Joseph, that I may gracefully ascend the position of my dream job, in the mighty name of Jesus Christ

I dissociate from every spirit of failure that pulls me backward every year,  from my career achievements, in the mighty name of Jesus Christ

I receive grace to always pay my tithes and offering, that my testimony will last, in Jesus Mighty Name

I decree that my dream job advert shall speedily locate me now, in the mighty name of Jesus Christ

I decree that the Helpers of my destiny shall speedily locate me and link me up to high places in the mighty name of Jesus Christ

Oh Lord, I thank you for your great help and grace.

Thank you Father for all answered prayers in Jesus Mighty Name
Thanks for reading. Kindly subscribe to my channel to watch powerful videos on dream interpretations and warfare prayers.Evangelist Joshua TV