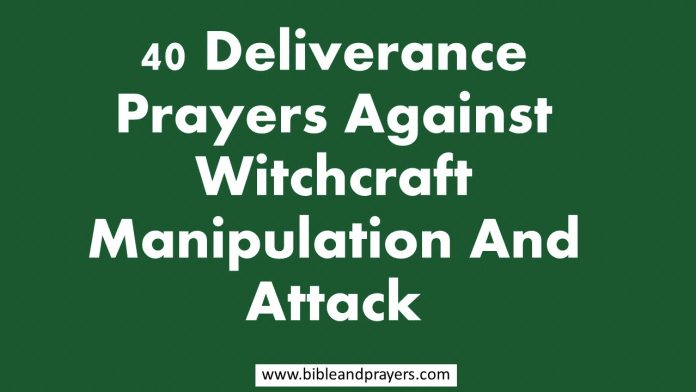 40 Deliverance Prayers Against Witchcraft Manipulation And Attacks
Isaiah 49:26-27
"Shall the prey be taken from the mighty, or the lawful captive delivered? But thus saith the Lord, Even the captives of the mighty shall be taken away, and the prey of the terrible shall be delivered: for I will contend with him that contendeth with thee, and I will save thy children. And I will feed them that oppress thee with their own flesh; and they shall be drunken with their own blood, as with sweet wine: and all flesh shall know that I the Lord am thy Saviour and thy Redeemer, the mighty One of Jacob" 
Have you been suffering under a particular health condition for a long time yet the medical practitioners can't seem to find a cause or cure for the problem? Have you been experiencing re-occuring financial crises in your marriage despite all measures you have put in place to avert the crisis? You have to pray these 40 deliverance prayers against witchcraft manipulation and attacks.
As the main purpose of the devil's ministry is, Witchcraft attack and manipulation is often geared towards stealing a person's wealth, destroying the purpose of God in a man's life and ending the life of such person as it is In John 10:10, hence it is important that you fight hard through these prayers, because the enemy does not intend to stop at this frequent attacks and manipulations, his mission is to end your life.
Meanwhile, the powers of darkness do not attack a person if he or she does not have great destiny or specific assignment in God's agenda to fulfill, (David, Samson) they attack those whose light and destiny are meant to shine for others to see and benefit from, and that's why you must pray fervently if you are under any witchcraft attack
If not for the mercy of God upon David, King Saul would have achieved his main aim of ending his life, (1 Samuel 19) also for Samson, the plan of the enemy was not just to destroy his destiny, but to ensure that he turns a laughing stock amongst the philistines, and eventually to kill him (Judges 16).
Therefore, you need to take these 40 prayers against witchcraft manipulation and attack in order to end satanic manipulation in your life and family.
40 Deliverance Prayers Against Witchcraft Manipulation And Attack
Father, I thank you for your love and peace upon my life and family.

I thank you for your good thoughts and plans for my life and family

Oh Lord arise for my sake and end every Witchcraft Manipulation around my destiny now in Jesus name

Oh Lord of host, every evil personality working against my destiny from evil altars, arise and destroy them in Jesus name

I stand against every operation of witches and wizard around my life and family in Jesus name

I command every satanic operation against my health to cease now in the mighty name of Jesus Christ

Witchcraft Manipulation against my marriage, I rebuke you now by fire in the mighty name of Jesus Christ

I decree that all evil imagined against me and my family backfire by fire in Jesus mighty name

I come against every altar of darkness set up against my family in Jesus name

I decree and declare that my health shall no longer be a display ground for the powers of darkness in Jesus mighty name

Witchcraft powers fighting against my business, I come against you in the name of the Lord, catch fire in the mighty name of Jesus Christ

Witches le⁷⁶⁷go of my business and my finances, oh you witchcraft altar in the mighty name of Jesus Christ

Every satanic hindrance against my promotion, what are you waiting for, get out of my way by fire in Jesus name

I refuse to allow the enemies gain access into my marriage, I command you strange woman set by witchcraft altars to get out of my marriage now by fire in Jesus name

I frustrate every counsel of the wicked to bring me and my family sorrow in this season in the mighty name

Witches monitoring my children for evil, I command you to go blind by fire now!

Witches diverting my family blessings, I command you to be incapacitated by fire in Jesus mighty name

Powers seeking to turn all my efforts to fruitless labour, I command you to die by fire in Jesus name

Personalities of darkness assigned around my life, I command your assignment against me to end now by fire, in Jesus name

Every evil imagination of witches against me, I command it to die by fire in Jesus name

I walk my way into financial freedom by fire in the mighty name of Jesus

I exit every valley of frustration and depression in the mighty name of Jesus Christ, I walk into my liberty and joy in Jesus name

I decree that no weapon formed against me shall prosper in the mighty name of Jesus name

I command evil arrows targeted against me to backfire in the mighty name of Jesus Christ

Household witches in my family, die by fire and thunder in the mighty name of Jesus Christ

Every witch I am keeping as a confidant who is actually the source of my problems, Lord expose and disgrace them by fire in the mighty name of Jesus Christ

Every activity of witchcraft against my peace of mind, that is causing me to fear without a cause, I command it to cease now in the mighty name of Jesus Christ

Witchcraft coven regulating the destinies of men around my location, I command you all to be destroyed by fire in the mighty name of Jesus Christ

Wherever my blessings and the blessings of my children have been kept, I command it to come forth by fire in the mighty name of Jesus Christ

I shall no longer be financially stagnated, I receive grace to move forward speedily in the mighty name of Jesus Christ

I decree it is well with me and my family in the mighty name of Jesus Christ

I enter into my place of peace and all round rest in the mighty name of Jesus Christ

I overcome every trap set for me and my family by witches and wizards in the mighty name of Jesus Christ

I decree that my family is coming out of every web of confusion initiated by the coven of witches in the mighty name of Jesus Christ

By the blood of Jesus Christ, I destroy every effect of witchcraft manipulations in my life in the mighty name of Jesus Christ

I begin to walk in divine wisdom and revelation, the evil works of the enemy will no longer be hidden from me in the mighty name of Jesus Christ

My faith in Christ shall no longer be tampered with in the mighty name of Jesus Christ

Every good thing that has been stolen from me is hereby restored by the blood of Jesus Christ

I walk henceforth in victory daily in the mighty name of Jesus Christ

Thank you Jesus for answering my prayers