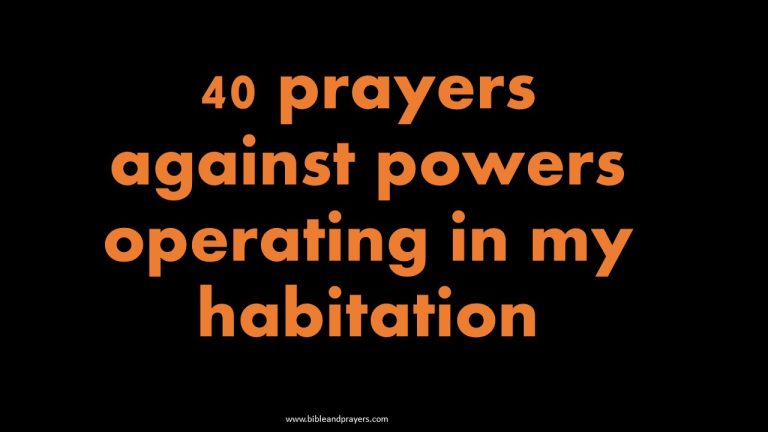 40 Prayers Against Powers Operating In My Habitation. 
Joshua 24:15 "But as for me and my family, we will serve the LORD."
Are you situated in a location where there is a high level of fetish activities? Have you noticed that your prayers are restricted whenever you pray in your home? Have you had an encounter in the spirit realm with the powers in your location? You need to pray these 40 prayers against powers operating in my location
Many have been victims of the activities of the powers of darkness resident in their home location, these people complain of unanswered prayers, spiritual blockage of favor, disappointments, and other matters. Some even experience retrogression in a big way, all because of their choice of location (Proverbs 14:12-16)
Remember the case of Daniel in Daniel 10, though God heard Daniel from the very first day he started praying, and God sent the answers to his prayers, the ruling prince in Daniel's location hindered the angel of God from getting to Daniel with his answers, it took the interference of Angel Michael to fight the demonic ruling prince and to ensure that Daniel's answers were delivered to him
In the same way, many have suffered terrible negative circumstances all because they are located in an environment where demonic operation is quite high (Acts 17:16).
If you have stayed in an environment for many years, and you can't seem to notice any tangible advancement in your life, you need to pray these prayers fervently.
Also, if you have taken note that all the good things including assets that you brought in into your present location are no longer with you, may be as a result of you selling them in times of need, or you just lost the assets mysteriously, you need to pray these 40 prayers with holy anger (James 5:16).
Christ assured us of victory over every fight when he gave us the power to thread upon snakes and scorpions and over all the powers of the enemy, He also promised that nothing shall by any means hurt us (Luke 10:19)
Are you ready to pray? Let's proceed to the 40 prayers 
40 prayers against powers operating in my habitation
Father I bless your holy name for you are good and your mercy endures forever

Lord I thank you for your love never fails

Thank you Father for you will always come through for me and my family

Thank you Lord for the forgiveness of our many sins

Thank you for not allowing the powers in my area of habitation, overshadow your power in our lives

Thank you for frustrating the plots of the wicked powers around us

Thank you Lord for putting them to shame over our lives, be thou magnified oh Lord

Thank you Father for you have not allowed the enemy to cover your light in our lives, be thou magnified Lord

Thank you Father for the gift of the holy spirit which distinguishes us from the crowd, be thou magnified Lord

Father I am grateful for the daily strength you have given unto me, be thou magnified oh Lord

King of glory I appreciate you because all power on earth is under your control

I thank you for the devil and his cohorts shall not prevail over my family

Lord I bless your holy name for all the times you have destroyed their works and rendered their plans useless, blessed be your name

Father I thank you for not allowing their thoughts come to pass over my children 

Lord I ask for your mercy in every way we disobeyed you by pitching our tent in our present location

Father please forgive us for all the warning we ignored before packing in

Lord show us your mercy in every way our desperation hindered us from hearing your voice

Lord let your mercy speak for us in all ways we have fallen short of your glory.

Father please forgive us for all the wrong decisions we have made in this location

King of glory please show us your mercy in every way we have sinned through our actions, thoughts, words and inactions

Father arise to deliver us from the ruling powers of this location in the mighty name of Jesus Christ

Lord let every of our blessing that the enemy has stolen let it be restored now by fire in the mighty name of Jesus Christ

Every destiny helper they have blocked from locating us, I command them to locate us now speedily in the mighty name of Jesus Christ 

I reverse every evil cause placed on this land in the mighty name of Jesus Christ

Every curse of fruitless placed upon this land against it's inhabitants, I reverse you now by fire in the mighty name of Jesus Christ

Every bondage of financial lack that the inhabitants of this land have been kept in, I decree that my family is set free from that bondage in the mighty name of Jesus Christ

Every demonic atmosphere of suicide affecting many lives in this location, I decree that my family is exempted from it in the mighty name of Jesus Christ 

My family is delivered from shame and reproach in the mighty name of Jesus Christ

My family is exempted from the curse of retrogression in the mighty name of Jesus Christ

I shall no longer be average in life in the mighty name of Jesus Christ

I receive more than enough funds to relocate myself and my family to a better location according to the will of God in the mighty name of Jesus Christ

I shall no longer lose money and other valuables in the mighty name of Jesus Christ

All good connections that I have lost is restored now by fire in the mighty name of Jesus Christ

I shall no longer labor without results in the mighty name of Jesus Christ

My children shall no longer be sick in the mighty name of Jesus Christ 

My family shall live, we shall not die in the mighty name of Jesus Christ

The structures of darkness shall no longer excel in their operations against my family in the mighty name of Jesus Christ

We take back our marital peace and joy in the mighty name of Jesus Christ

We are revived spiritually in the mighty name of Jesus Christ

Thank you Father for answering my prayers