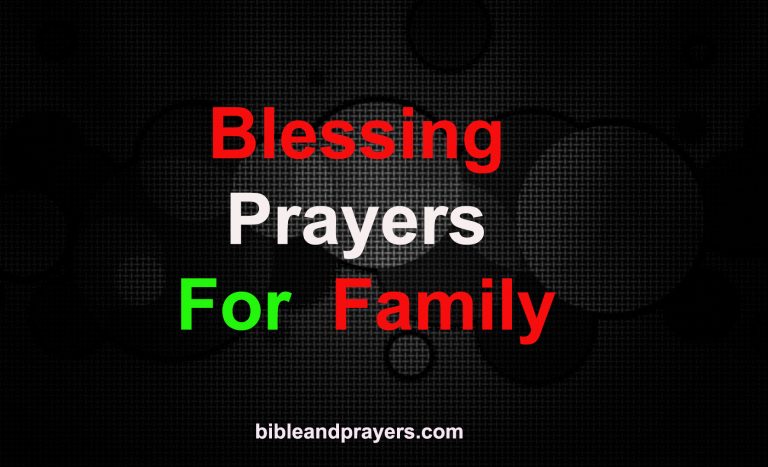 BLESSING PRAYERS FOR FAMILY
And the ark of God remained with the family of Obededom in his house three months. And the LORD blessed the house of Obededom, and all that he had. (1 Chronicles 13:14 )
The presence of the Lord when allowed to take resident in our lives blesses our family, when the blessings of the Lord enters a home, it spread to every member of that family
For the promise is unto you, and to your children, and to all that are afar off, even as many as the LORD our God shall call (Acts 2:39). Whenever God blesses a man He ensures that He uplifts the man even to his generation unborn, this is a clear indication that God is always interesting in blessing our families beyond human understanding for the mind of the Lord is not like our thought. Our human reasoning cannot coordinate the extent to which God cares for us in particular and our family in general.
Ye are the children of the prophets, and of the covenant which God made with our fathers, saying unto Abraham, And in thy seed shall all the kindreds of the earth be blessed (Acts 3:25)
God doesn't joke with family, He places family on a very high estate. The first institute that God created was family in the garden of Eden, no wonder it is not surprising to realize that one of the greatest attack of the family is to cause confusion in family by introducing and inserting disunity into the home.
But he, knowing their thoughts, said unto them, Every kingdom divided against itself is brought to desolation; and a house divided against a house falleth (Luke 11:17)
And if a house be divided against itself, that house cannot stand. (Mark 3: 25)
The house here represent family, it is very clear that the strategy the enemy used in fighting family is to take away the blessings that rightfully belong to that family, and at this point, the family started fighting  against itself, this act of disunity then makes such family to fall. It is the blessings of the Lord that guarantee the uplifting of families.
The blessings of the Lord does not just begin and end with one man, the generation unborn must also be partakers by inheriting the blessings which through one man entered the family for the benefits of every member of that family. There are certain family that do not struggle to make progress, they see themselves prosperity and getting blessed even without their effort and every little thing they do, success must be recorded. This is a practical manifestation of the covenant of blessing that runs in that family.
It is very crucial for us to know that in as much as we want God to bless us, we shouldn't forget to ask Him to bless our family as well because that is where we belong, there is no one who doesn't have a family. With the understanding that the blessing of the Lord makes riches to abound in families without been accompanied by sorrow, hatred or destruction.
PRAYER POINTS FOR FAMILY BLESSING
 Lord I dismantle every evil agenda that has polluted the peace in my family in the name of Jesus.
 Lord I release every blessing belonging to my family that was caged by the kingdom of darkness, by the power of the Holy Ghost, I untied the blessings of my family in the name of Jesus.
Lord thank you for the blessedness of your presence in my family.
 Lord I terminate every evil action poisoning the mind of members of my family against each other, I nullify such actions in the name of Jesus.
I break and lose my family from the curse of untimely death, I therefore declare that no member of my family is permitted to die untimely in the name of Jesus.
I canceled every appointment with death in my family, every spirit of death that was waiting for any member of my family, I return you back to sender in the mighty name of Jesus.
 Lord I declare, may all evil net trapping the potentials of members of my family be destroyed, and may the destiny of family members be release in the name of Jesus.
Lord I bind every stubborn pursuer attacking me and my family, die by fire in the mighty name of Jesus.
I bind every spirit of bondage over members of my family in the name of Jesus.
 I cancel and destroy every sickness, program by the devil to run in my family, I roost it by the fire of the Holy Ghost.
Lord I thank you for renewing my mind by making me to understand that it is your will to bless my family beyond human understanding, I believe in your word and the spirit of unity that you have send into my home, I speak peace and prosperity to every member of my family, whatever thing that was impossible for us to achieve, today by the power of your word, I take possession of my blessings and that of my family. Henceforth I declare that no member of my family shall be in lack or poverty. I ask of divine wisdom to be deposited on us all that we know how to manage the abundance blessing that you have endowed us that we may live the glory life to the fullest.
Lord grant us courage and strength to overcome every obstacle that come our way, help us to live a victories life in the mighty name of Jesus.
Lord manifest your power in the life of every member of my family in the mighty name of Jesus.
Lord by your mighty hand deliver us in times of trials and trouble, may the challenges of life not overshadow me and my family.
Lord bless us beyond measures according to your riches in glory, supply every of our needs in Jesus  name.
Lord help us not to take advantage of your blessings and in return become disobedient children, help us to live your kind of life and to constantly defend and uphold your name now and forever more.