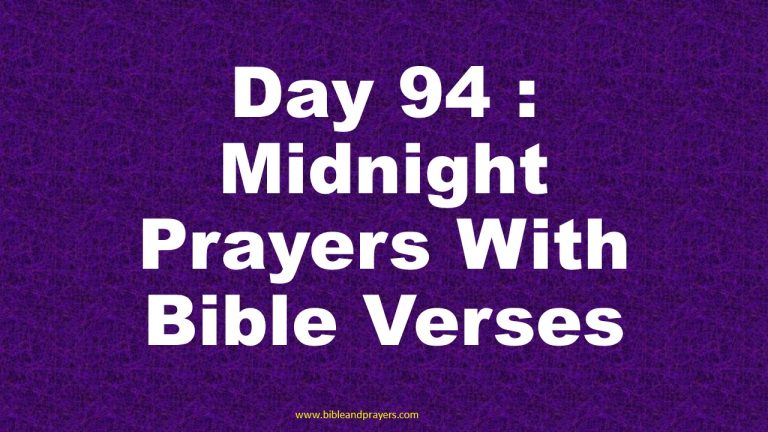 Day 94 : Midnight Prayers With Bible Verses
Confession: Psalm 12:7; Thou shalt keep them, O Lord, thou shalt preserve them from this generation for ever.
Job 10:12; Thou hast granted me life and favour, and thy visitation hath preserved my spirit.
Praise and worship (15 minutes)
These prayers are for married women ( if otherwise, then you can pray for your partner, or your loved ones)
No weapon of the enemy that is formed against my husband shall prosper and every tongue that rises up in judgment, I condemn in the name of Jesus.

Father, help my husband to fulfill his destiny, he will not be a reproach. The enemy will not stop him halfway in the name of Jesus.

Father, let my husband experience limitless victories and conquer territories today. As he takes steps of faith towards his plans, projects, and goals, let him be able to accomplish them in the name of Jesus.

By the grace of God, I declare that my husband will continue to love me, just as Christ loves the Church unconditionally.

Father Lord, restore my love and affection in my husband's heart and remove any trace of animosity in his heart.

Lord, remove ungodly desires in his heart for any strange woman and help him to keep his marital vows sacred.

Lord, remove all traces of bitterness and anger that are slowly taking root in my husband's heart and starving my love from his heart in Jesus' name.

My husband will enjoy sound health every day of his life in the mighty name of Jesus.

Any terminal disease waiting for my husband in the future, I terminate you right now in the name of Jesus.

Father, I pray that my husband will excel in his workplace. Lord, give him a quick solution to every difficult assignment at work.

Father Lord, rebuke every devourer that the enemy wants to use to deplete my husband's finances.

Father, let the right doors of business opportunities be opened for my husband. Let him find favour before nobles and kings in the name of Jesus.

Father, when enemies rise up in conspiracy against my husband, be his shield and defend him and scatter their plans in the name of Jesus.

Father, I pray that the devil will not steal my husband's joy. He will not weep, he will not mourn and he will not sorrow over anyone dear to him in the name of Jesus.

Father, in the times of temptation and weakness of the flesh, strengthens my husband so that he will not fall.

Lord, teach my husband and me how to care for each other in all areas of our lives. Help us to accommodate each other's weaknesses and celebrate our individual strengths.

Lord, help him to love me more and more and teach me ways to show him more respect as my husband.

Father, I pray that you will strengthen our marriage every day. Prepare us for any battle ahead and grant us victory.

Father, let your mighty power work in my husband's life to overcome every obstacle that the enemy has placed or wants to place on his path.

I declare the seven-fold restoration of all that the enemy has stolen from my husband in Jesus' name. I declare the restoration of business opportunities, a promotion at work, spiritual insight, health, and finances.