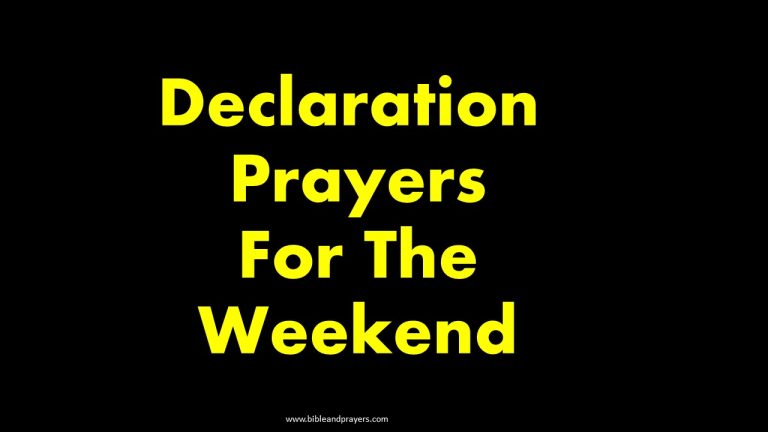 Declaration Prayers For The Weekend
 Psalm 16:5-6 "The LORD is the portion of mine inheritance and of my cup: Thou maintainest my lot. The lines are fallen unto me in pleasant places; Yea, I have a goodly heritage."
Has your week been quite unfruitful? Do you feel like you have wasted precious hours during the week? Did you have some unpleasant experiences during the week? Are you afraid that your weekend may be worse? Do not be afraid, all you need to do is to pray these declaration prayers for the weekend.
 After a week full of activities, it is imperative to pray for a blessed weekend. Weekends are times when you get to relax and do a review of your activities in the past week, weekend can also be a time of catching up with friends, making new connections or bonding with family members, so it's an important period for every individual and must be prayed for.
If you have a line up of activities for the next weekend, it is crucial that you pray that the Lord will cause all your plans to succeed, and that everything in creation work in favor of your activities.
Also, if you had a bad week previously, it is good for you to pray for the week to have a good ending for you, and that the new week should be filled with pleasant surprises and experiences for you.
 The bible says: "His mercies are new every morning" (Lamentations 3:22) another scripture says: "blessed be the Lord who daily load us with benefits" (Psalm 68:19).
 This is meant to be your testimony daily, and not the other way round.
If you have been expecting the opposite of this, in your weekdays or weekends, then you must pray it into reality
Let's proceed to the 35 declaration prayers for the weekend
Declaration Prayers For The Weekend 
Father I bless your Holy name for your great love, your power and your strength upon my life and my family

Lord I thank you for how this week went, thank you because you know all things

Father i thank you for it is your desire that all things work together for my good

Thank you Lord for you are able to do all things

I know you are able to make all grace available for me to achieve all I intend to achieve this weekend, to you be all glory Lord

I decree that my week shall not end on a bad note in the mighty name of Jesus Christ.

Every obstacle on my way this weekend I command you to get out by fire in the mighty name of Jesus Christ

Every trap that has been set for me this coming weekend, I set you on fire now in the mighty name of Jesus Christ

Gathering of the wicked against my destiny, I command you to fail now by fire in the mighty name of Jesus Christ

Altars established against my new week, catch fire, burn to ashes now in the mighty name of Jesus Christ

I decree that the weekend shall not bring me sorrow in the mighty name of Jesus Christ

Every good thing I have lost during the week I command it to be restored during the week end in the mighty name of Jesus Christ

Every mouth opened to eat my harvest during weekend, shut up by fire in the mighty name of Jesus Christ

Hindrances against my progress, get out of the way now by fire in the mighty name of Jesus Christ

No weapon formed against me and my family this weekend shall prosper in the mighty name of Jesus Christ

Powers of darkness gathered against businesses during weekends, I render your powers useless concerning my life and family in the mighty name of Jesus Christ

I refuse to sorrow over anyone this weekend in the mighty name of Jesus Christ

I soak my family and my family in the blood of Jesus Christ

This weekend shall bring us new contracts, new jobs and greater connections in the mighty name of Jesus Christ

I receive the spirit of discernment to know what occasion to attend and the one I shouldn't in the mighty name of Jesus Christ.

I receive the strength I need for all the activities ahead of me this weekend in Jesus mighty name

I separate myself from every orchestration of the wicked programmed for the weekend in the mighty name of Jesus 

I refuse to lose anyone in the coming weekend in the mighty name of Jesus Christ

I shall not walk in error in the mighty name of Jesus Christ

Shame is not my portion, I reject every form of reproach in the mighty name of Jesus Christ

I refuse to weep in this weekend, all around me shall work in my favor in Jesus  mighty name

My business meetings shall be successful in the mighty name of Jesus Christ

My weekend interviews shall go well in the mighty name of Jesus Christ

This weekend I shall meet with destiny helpers in the mighty name of Jesus Christ

This weekend my sorrow shall be turned into joy in the mighty name of Jesus Christ

This weekend I shall surely testify of the wonders of God in my life and family in the mighty name of Jesus Christ

There shall be no accident for me and my loved ones this weekend in the mighty name of Jesus Christ

This weekend shall be a time of refreshing for me and my family in the mighty name of Jesus Christ

My marriage shall know peace this weekend in the mighty name of Jesus Christ

Thank you

Jesus

for answering my prayers