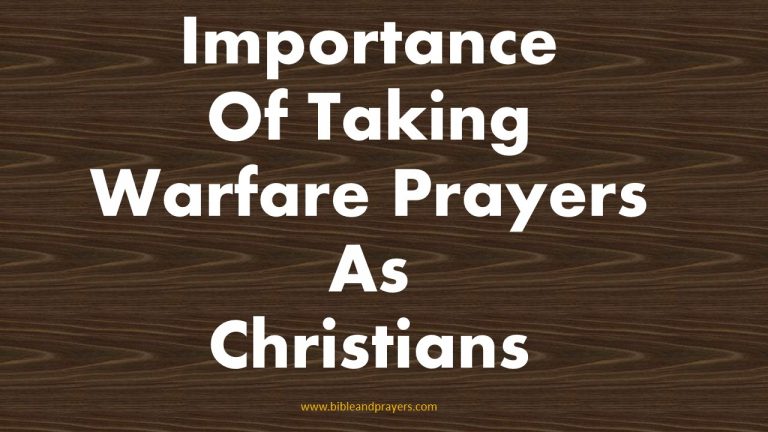 Importance Of Taking Warfare Prayers As Christians
KEY SCRIPTURES: Ephesians 6:11-18
Ephesians 6:11-12 "Put on the whole armour of God, that all of you may be able to stand against the wiles of the devil. 6:12 "For we wrestle not against flesh and blood, but against principalities, against powers, against powers, against the rulers of the darkness of this world, against spiritual wickedness in high places."
INTRODUCTION
Warfare prayers is a type of prayer technique that should be practiced as Christians. The world is not a fanfare place and for total victory in this world, we must take the whole armour of God. Warfare prayer focuses on using prayer as a weapon to do battle with the spiritual forces of evil, especially regarding one's daily life, habits, and struggles. As Christians, we are expected to wage war against all unseen forces and enemies directing the affairs of this world that is bent on making us prey to the snares of the fowlers. Christians have an enemy in Satan and his demons, hence the importance of taking warfare prayers. Apostle Paul mentioned the tools needed for warfare prayers in Ephesians 6:10-18 and as Christians, we are expected to make good use of those tools in order to defeat Satan and his demons.
Warfare prayer commonly encourages a "take control" attitude, where prayer warriors are told to be bold, decisive, and faithful in prayer. There is nothing wrong with praying boldly and faithfully, if we remember who is in charge. As Christians, we should know that prayer is an acting agent, and all our warfare prayers should be directed to God in order to experience total victory over that situation or circumstances. Warfare prayers shouldn't be focused on material needs, though it is not wrong to pray for blessings, but Christians should endeavour to pray according to Scripture, trusting in the power of God, and submitting our will to Him. To live a victorious life as Christians, we need to know the importance of warfare prayers and ways to practice it in our daily Christian living. In this article, some importance of taking warfare prayers as Christians will be discussed. 
TO BE SPIRITUALLY SENSITIVE: 1 Peter 5:8-10
As Christians, we need to practice warfare prayers in order to be spiritually sensitive. The world we are in is a spiritual world and to be overcomers, we need to be spiritually sensitive and vigilant to counter the evils of this world. Victories are first won in the spiritual realm before they are manifested in the physical and if we are carefree as a Christian, your life will be used by the enemy as a playing ground.
2. TO OVERCOME THE DECEPTIONS OF SATAN AND RESIST TEMPTATION
As Christians, taking warfare prayers are important in order to resist temptation in other day to day activities. Warfare prayers help us to revive our faith and make us steadfast in the things of God. Warfare prayer lets us become mindful of God's presence as Christians, and it teaches us to wait on Him to reveal His will for our lives. Warfare prayers reveal the mind of God to Christians regarding a situation or things and this will prevent wrong decisions or yielding to the deception of Satan over that issue or situations. 
3. TO MAKE GODLY DECISIONS
As Christians, we need godly decisions in all areas of life in order to manifest the will of God in all areas of life. The will of God can only be revealed to you as a Christian when you follow the right principle and that is by taking warfare prayers seriously. We can't neglect warfare prayers on earth and be fulfilled in life because emotions and feelings can make you fail into wrong and bad decisions which can bring a fatal end of destiny or damage one's life completely as a Christian. 
4. TO CANCEL OR DIVERT EVILS OR BAD OCCURRENCE: 2 Thessalonians 3:3
Warfare prayers have been known to cancel intending evils or divert bad occurrence from taking place. So as Christians, we can make good use of this by taking warfare prayers seriously which we can use to divert evils from the wicked powers of this world and to cancel all negative occurrences. Remembering that the spiritual controls the physical in all aspects. 
5. TO STAY COMMITTED TO GOD: Psalms 91:34
Taking warfare prayers as Christians help us to be in the right tune with God. It takes us to communicate effectively with God and allows us to see heaven evade earth which opens the floodgates of heaven for God to come down and be involved in our everyday circumstances. Warfare prayers help us to relate with God in an intimate way and experience His power and grace in our everyday life.
6. TO BRING AUTHENTIC REVIVAL TO THE CHURCH
Christians are expected to take warfare very important because it brings authentic revival to the church. For the church to stand and not be swept away by the principalities, power or wickedness in high places, Christians must take warfare prayers seriously because it is through those prayers that will make the church stand despite any storm. 
7. TO ADVANCE GOD'S KINGDOM ON EARTH
For Christians to actively take away the ground the devil has occupied and turn it into property for God's work, they need to be seriously involved in warfare prayers. Warfare prayers displace the enemy and bring in the Kingdom of God here on earth. 
8. IMITATE OUR SAVIOUR JESUS CHRIST
Christians are expected to take warfare prayers seriously because Jesus Christ, our savior also did. Jesus Christ always secluded himself to pray in order to lay an example to us his believers that warfare prayers are very important.
9. TO HAVE A GREATER EMPOWERING OF THE HOLY SPIRIT
When Christians engage in warfare prayers, there is a greater empowerment from the Holy Spirit to overcome every evil agenda of the wicked one. Their faith is deepened in God and all their paths and directions come straight from the guidance of the Holy Spirit. Their steps are ordered by God and every crooked path is made straight on their behalf because God is in control of their existence.
CONCLUSION
This physical world is ruled and controlled by the spiritual and a Christian must be sober and vigilant in all aspects in order not to be a snare for the fowler. For a Christian to overcome the evils of this world and gain eternal life in God, warfare prayers must be taken seriously. We can't but overemphasize why the bible said we should pray with ceasing because it is through prayers some battles are won even before they began.