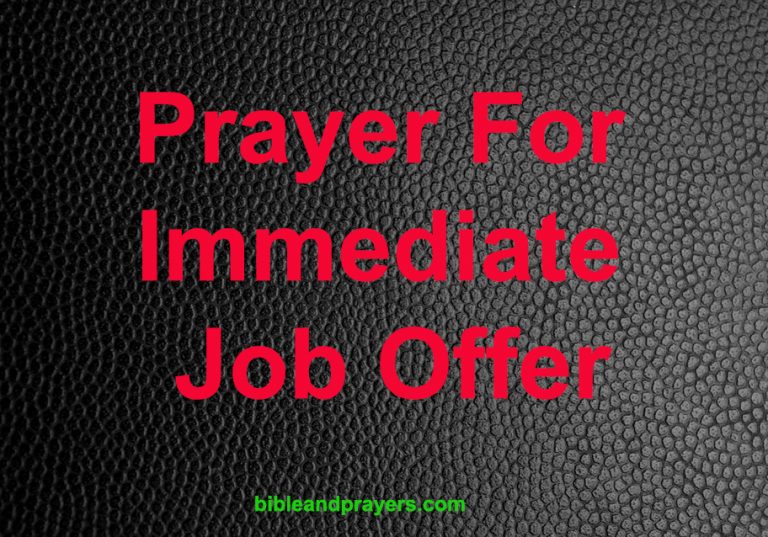 PRAYER FOR IMMEDIATE JOB OFFER
Gone are the days when getting a job after you graduate was an easy task, these days if you are not properly connected, you will lose a lot of opportunities even if you are the most qualified for the job. Not securing a job after graduating has caused a lot of pain, and anguish for most graduates, some of them end up in vices they never thought possible. Those that  can't be involved in crimes resort to depression and frustration.
However, we can't deny the fact that there are forces and power that hold people down from getting their job of choice. These forces can be from your paternal or maternal home, it can even be from friends around.
We have heard of cases where someone is overqualified for a job and the job was given to someone less qualified, this trend repeated itself over and over again for years and the victims begin to wonder whom exactly Is it they offended.
Only prayers can deliver someone out of this alarming situation. Hallelujah! All the power belongs to God. We are not without help. Amen
Bible Verses To Strengthen Job seekers 
Jeremiah 29:11; For I know the thoughts that I think toward you, saith the LORD, thoughts of peace, and not of evil, to give you an expected end.
Romans 8;28; And we know that all things work together for good to them that love God, to them who are called according to his purpose.
Isaiah 40:28-31; Hast thou not known? hast thou not heard, that the everlasting God, the LORD, the Creator of the ends of the earth, fainteth not, neither is weary? there is no searching for his understanding. He giveth power to the faint; and to them that have no might he increaseth strength. Even the youths shall faint and be weary, and the young men shall utterly fall:
But they that wait upon the LORD shall renew their strength; they shall mount up with wings as eagles; they shall run, and not be weary; and they shall walk, and not faint.
Philippians 4:6,7;  Be careful for nothing; but in every thing by prayer and supplication with thanksgiving let your requests be made known unto God.  And the peace of God, which passeth all understanding, shall keep your hearts and minds through Christ Jesus.
Joshua 1:9; Have not I commanded thee? Be strong and of a good courage; be not afraid, neither be thou dismayed: for the LORD thy God is with thee whithersoever thou goest.
Isaiah 41:10; Fear thou not; for I am with thee: be not dismayed; for I am thy God: I will strengthen thee; yea, I will help thee; yea, I will uphold thee with the right hand of my righteousness.
Isaiah 43:19; Behold, I will do a new thing; now it shall spring forth; shall ye not know it? I will even make a way in the wilderness, and rivers in the desert.
Psalm 37:23-25; The steps of a good man are ordered by the LORD: and he delighteth in his way. Though he fall, he shall not be utterly cast down: for the LORD upholdeth him with his hand.  I have been young, and now am old; yet have I not seen the righteous forsaken, nor his seed begging bread.
Proverb 3:5,6; Trust in the LORD with all thine heart; and lean not unto thine own understanding. In all thy ways acknowledge him, and he shall direct thy paths.
Psalms 46:10a; Be still, and know that I am God:
Psalms 23:1-6; The LORD is my shepherd; I shall not want. He maketh me to lie down in green pastures: he leadeth me beside the still waters. He restoreth my soul: he leadeth me in the paths of righteousness for his name's sake.
 Yea, though I walk through the valley of the shadow of death, I will fear no evil: for thou art with me; thy rod and thy staff they comfort me. Thou preparest a table before me in the presence of mine enemies: thou anointest my head with oil; my cup runneth over. Surely goodness and mercy shall follow me all the days of my life: and I will dwell in the house of the LORD for ever.
2 Corinthians 1:3,4; Blessed be God, even the Father of our Lord Jesus Christ, the Father of mercies, and the God of all comfort; Who comforteth us in all our tribulation, that we may be able to comfort them which are in any trouble, by the comfort wherewith we ourselves are comforted of God.
PRAYER FOR IMMEDIATE JOB OFFER
Every demon assigned to wait for me when I am about to have a major breakthrough in my job, die by fire

Job manipulators and distractors, enough is enough

Oh Lord every curse that has caused me delay in life Is broken in Jesus name

I ask oh Lord that your unspeakable favor go with me for the interview in Jesus name

Every spirit of disfavour is cancelled in the name of Jesus

Every economic situation that will affect my business, I ask that you give way in Jesus name

Dear father, every manipulators of destiny die by fire in Jesus name

Every power from my father's house holding me down from having breakthroughs is broken in Jesus name

I cast out every spirit of failure from my life in Jesus name

Direct my steps Good father to the right job opportunities in Jesus name

All reproach of joblessness in my life is broken in Jesus name

Oh lord I ask for business ideas that will change my job status in Jesus name

Help me Lord not to fall victim of fraud out of the desperation of wanting a job in Jesus name

Every yoke of delay in getting a job is broken in Jesus name

I ask dear father that this month will not pass me by, I will celebrate in Jesus name

Every strong man assigned to hinder my progress, I bind and cast you out in Jesus name

Every decree that has been made and is not to my favour is reversed in Jesus name

I receive the anointing to be accepted as the right candidate for the job in Jesus name

I ask dear father that by your mercies and favour, my CV is selected and I receive an alert for the job in Jesus name

Thank you father because I know you will always hear me when I call, Amen.