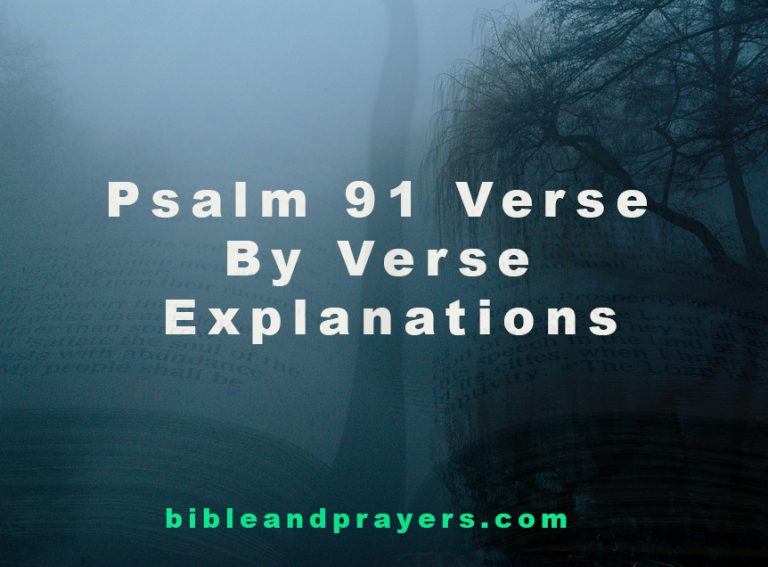 PSALM 91 VERSE BY VERSE EXPLANATIONS
Psalm 91:1-16 KJV
[1] He that dwelleth in the secret place of the most High shall abide under the shadow of the Almighty.
This verse simply tells us that having a relationship with God gives us access into His presence where there is safety and protection. Having a relationship with God is creating time for Him and giving Him the first place in our lives, in other words when we have surrendered our lives to Him.
 [2] I will say of the Lord, He is my refuge and my fortress: my God; in him will I trust.
Our only sure protection is God, He is always available for us in time of distress and troubles. He is being referred to as our refuge and fortress because when we are in him we are protected and fortified against all forms of attacks and turbulence. We must make sure we reaffirm the fact that God is all of these and more. Let us always put our trust in God.
 [3] Surely he shall deliver thee from the snare of the fowler, and from the noisome pestilence.
This verse tells us that our God will protect us and save us from the bondage and plots of the enemy and from all forms of diseases and sicknesses. With God our safety is assured and our good health is guaranteed. 
[4] He shall cover thee with his feathers, and under his wings shalt thou trust: his truth shall be thy shield and buckler.
When we are under the canopy of the Most High God, the safety we have under the canopy gives us the trust we need and when we trust God, He continues to ensure our safety. What God needs from us is our trust and faith and then He is moved into action when our trust in Him is alive.
[5] Thou shalt not be afraid for the terror by night; nor for the arrow that flieth by day; 
As children of God, we are protected against evils of the day and of the night, we must hold on to this belief, trust and have faith. When we are sure of this we must not allow fear and doubt take hold of our mind and rob us of our assured safety. 
[6] Nor for the pestilence that walketh in darkness; nor for the destruction that wasteth at noonday. 
This further affirms our assured protection we have in God. We are protected from destruction and forces of darkness. This verse emphasizes that we should not fear. Faith is the bedrock of our relationship with God. We should always aim at increasing and growing our faith in God. The growth of our faith determines the level of His activities in our lives. 
[7] A thousand shall fall at thy side, and ten thousand at thy right hand; but it shall not come nigh thee. 
No matter the evils, catastrophes, or calamities in the world, our safety is still guaranteed because we are under His canopy. As long as we abide under His canopy, we can live with boldness and confidence even during hard times of life.
[8] Only with thine eyes shalt thou behold and see the reward of the wicked. 
When we are under His safety, no wicked plot can reach us and harm us because we dwell in protection of God. We will always be fortified against the wickedness of the wicked. God shall bring the evil doers to book and pay them for their evil works. 
[9] Because thou hast made the Lord, which is my refuge, even the most High, thy habitation; 
This verse in relation to the above verses simply implies that we are fully fortified in Him and when we live in His presence, no harm can reach us. It explains that enjoying these benefits of protection and safety from God is dependent on our relationship with God and our consecration to His presence. 
[10] There shall no evil befall thee, neither shall any plague come nigh thy dwelling. 
No form of pandemic raging all around can reach us when we are under His assured security because the security provides us with immunity against diseases. God does not only protect us but also gives us immunity against all forms of evils around. Our aim is to always abide in Him.
[11] For he shall give his angels charge over thee, to keep thee in all thy ways.
The guiding Angels of God will watch over us and keep us from all harms. They will guide us in all our endeavour and ensure our continuous guidance through the paths of life. 
 [12] They shall bear thee up in their hands, lest thou dash thy foot against a stone. 
The guiding Angels shall ensure all round safety for us and make sure that no danger comes near us no matter how little. The aim of the angels is all round protection and security.
[13] Thou shalt tread upon the lion and adder: the young lion and the dragon shalt thou trample under feet. 
This simply means that even when we go through difficulties and issues of life, we are still protected. No harm or power can take away our safety from us and when we realise and affirm this, then this will strengthen our assurance of the peace we will have in troubled times. 
[14] Because he hath set his love upon me, therefore will I deliver him: I will set him on high, because he hath known my name. 
God is not only assuring us of His protection but He is also assuring us of His great love, through His love, he will deliver us and lift us above our enemies and tribulations. God so much loves us our name is registered in His book and hereby assuring us of His immense and forever sure safety. God's love for us is beyond human reasoning and comprehension. 
[15] He shall call upon me, and I will answer him: I will be with him in trouble; I will deliver him, and honour him. 
God is always available to hear and act on our pleas. He will not only protect us in the storms of life but He will also be with us in the storm, to save us and to make us great.
[16] With long life will I satisfy him, and shew him my salvation.
When we are protected by God from all troubles, calamities and issues of life, then we are assured of good health and a prosperous long life. It is only when we abide in God that all the benefits of His safety, protection and security can be ours.
Note: Psalm 91 is one of the most commonly used psalms in the bible by Christians. Psalm 91 can be used for protection and safety. It is advisable to read and memorize psalm 91.