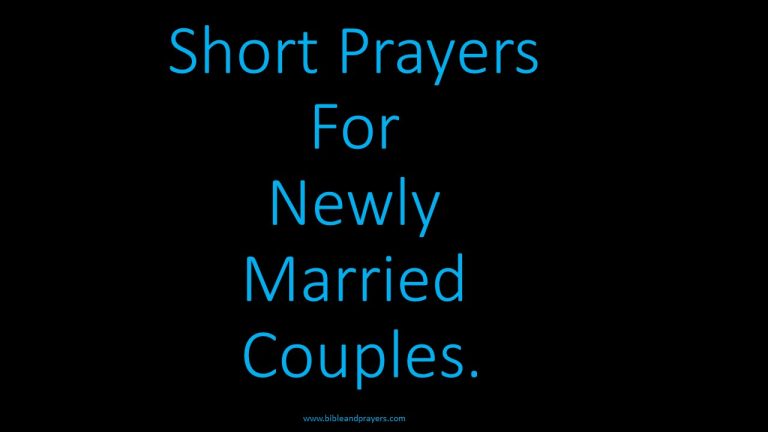 Short Prayers For Newly Married Couples.
Hebrews 13:5 "Marriage is honourable in all, and the bed undefiled: but whoremongers and adulterers God will judge".
Are you newly married? Do you have someone who just got married around you? These short prayers for newly married couple are quite important for every couple that has just wedded.
God ordained the institution of marriage  to support the establishment of His kingdom on earth, (Matthew 6:10)
In order words, every marriage is meant to fulfill the purpose of God on earth, just as it is in heaven. You may be wondering now: "what is the purpose of God for the inhabitants of the earth?" Isaiah 43:21 says: "This people have I formed for myself, they shall shew forth my praise"
So every marriage on earth is meant to show forth the glory of God in every aspect of life, including the aspect of the seeds that are raised in the marriage, they are meant to show forth God's glory too.
The devil is fully aware of this fact and this is why he is all out to destroy both young and old marriages, sometimes one would wonder why newly married couples of a few months old would divorce each other suddenly, it's definitely not part of God's will for any marriage rather it's the devil at work. Remember the devil's mission is to steal, kill and to destroy,(John 10:10) therefore we are meant to resist him totally so that he may flee from us just as the bible instructed in James 4:7.
Therefore, in these Short prayers for newly married couple, you will be praying against the plans of the devil and his cohorts, you will also be praying that the Lord strengthen your marriage and give you absolutely peace all through your lives (you and your spouse)
Lets proceed to the Short prayers for newly married couples.
Short Prayers For Newly Married Couples.
Father I thank you for your faithfulness and mercy upon my life and my spouse

Thank you for been our peace in the midst of all storm

Thank you Father for not allowing the wishes of the enemies to prevail our lives

Thank you Lord for not allowing our mistakes to prevail against us

Thank you Father for you are able to make all grace available for our marriage

Thank you for all the good things you have in store for us

Thank you for your amazing love that has kept us together

Thank you Lord for there is absolutely nothing you cannot do

Thank you for fighting our battles and granting us victory, be thou magnified in Jesus mighty name

Father I bless your holy name for you are good and your mercy endures forever

Oh Lord in every way we have sinned and fallen short of your glory, let your mercy speak for us in Jesus name

Father for all the times we have done things in our own way, let your mercy speak for us

Please forgive us Lord in all ways we have sinned through our actions, words and inactions

Please show us your mercy in every way we have not prioritized your instructions, let your mercy speak for us in Jesus mighty name

Oh Lord I ask that you help us to understand and fulfil our purpose as couple in the mighty name of Jesus Christ 

Father in your mercy let every hindrance against our fulfilling purpose be removed by fire in the mighty name of Jesus Christ

Every enemy of our marriage let them be greatly ashamed in the mighty name of Jesus Christ

Every evil personality fighting against the peace of God in my marriage, I command them to be destroyed by fire in the mighty name of Jesus Christ

We shall not experience delay in child bearing in the mighty name of Jesus Christ

I shall not lose my husband in the mighty name of Jesus Christ

I shall live to declare the counsel of God in the land of the living in the mighty name of Jesus Christ

Powers of darkness forming alliance against our finances, I command you all to scatter by fire in the mighty name of Jesus Christ.

Devil you have no place in my marriage, get out by fire in the mighty name of the Lord

I decree that no strange woman will come between me and my husband in the mighty name of Jesus Christ

No strange man will separate me from my spouse in the mighty name of Jesus Christ

We shall daily walk in the light of God all the days of our lives in the mighty name of Jesus Christ

We shall influence many lives positively as we fulfill purpose in the mighty name of Jesus Christ

No weapon formed against me and my family shall stand neither shall it come to pass, in the mighty name of Jesus Christ 

Lord let every plan of the evil ones against my marriage be frustrated by fire in the mighty name of Jesus Christ

I decree that the peace of God shall reign in my marriage in the mighty name of Jesus Christ

I receive the grace to understand my spouse better in the mighty name of Jesus Christ

Spirit of darkness causing frequent quarrel in my marriage, get out by fire in the mighty name of Jesus Christ

My marriage shall bring glory to God in the mighty name of Jesus Christ

Nothing shall stop or reduce our love for each other in the mighty name of Jesus Christ

Thank you Father for answering my prayers