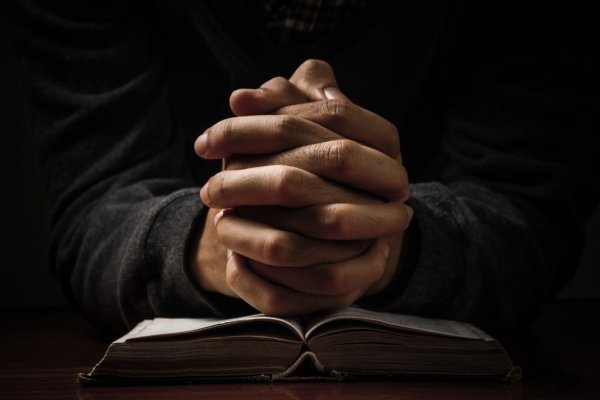 THE IMPORTANCE OF MORNING PRAYER.
Every believer should embrace the act of starting and committing a new day to God's hands in the morning. Each day comes with its blessings and opportunities that why scripture says he daily load us with benefit. It is very significant to commit the day into God's hand and to also tune into the prompting and leading of the Spirit. We have made this post on morning prayer before going out to help believers engage God every morning before going about their daily activities.
WHY IS MORNING PRAYER IMPORTANT?
Morning prayer is essential because of the following reasons:
It's an act of communicating with God; The first thing believers should do before communicating with anyone is communicating with their maker first. There is this peace and stillness that comes with communicating your fears to God.

It's how we rebuke the devil; The devil is always on the look out for every believer, he comes to them with a snare, believers must always be at alert in prayer, you must be relentless in prayer always, in the morning, noon and at night.

We commit our day into his hands; Starting our day with prayer is a way of committing our day into his hands asking him to guide us and shield us from the evils that come with a new day.

It is how we command our day: When you invite God to your morning via morning prayers, it sends signals to the realm of the Spirit, you call forth the good you want to see in your morning via prayers.
STEPS OF PRAYING BEFORE GOING OUT
Rise from your bed; This is needful to avoid the temptation to sleep while you pray, you can choose to stand or walkabout; this is to clear drowsiness from your eyes.

Thank the father; Thank him for all the good things he did the day before, thank him for his all-round breakthrough, favor and mercies. 

Philippians 4:6

; Be careful for nothing; but in everything by prayer and supplication with thanksgiving let your requests be made known unto God.

Ask the heavenly father: Its now time to present your needs unto God, don't do it with unbelief in your heart, have this confidence that before you call, he will answer. God is your responsible father. He would not suffer your foot to be moved.

Thank him for the answered prayers: Thank him with gratitude in your heart, you can sing psalms and hymns to him thanking him for the victory won.
WHY DO PEOPLE NOT PRAY BEFORE GOING OUT?
The flesh is weak; The flesh is rebellious to the things of God, that's why scripture says that the flesh is weak, but the Spirit is willing, our duty as believers is not to yield to the things of the flesh, but to yield to the prompting of the Spirit.

Lack of spiritual discipline; Spending quality time with God requires discipline, often times we have the desire to want to spend time with God, but we never get around to it. It is not enough that you have the desires, what price are you willing to pay to follow through on your desires to want to spend time with God. You can fix a particular time precisely at 6:00 am depending on your work schedule and stick to it daily, with time, it will become a part of you.

Laziness; Prayer is hard work. It requires a lot of effort and work. Oftentimes we are not just ready to put in the effort and work required to pray; instead, we prefer to do something else with the time we are supposed to use to pray. we should stir up ourselves to lay hold of God.

When prayer is not your priority; 

Matthew 6:21

; For where your treasure is, there will your heart be also. The truth is if prayer were a part of our priority, we would always take out time to pray. Our heart is so burdened with other things such that prayer becomes the least of our priorities; hence we don't see the need to pray. Nothing should ever be prioritized over spending time with the Lord.
CONFESSIONS:
Philippians 4: 13: I can do all things through Christ, which strengtheneth me.
Psalm 121: 1-8: I will lift up mine eyes unto the hills, from whence cometh my help. My help cometh from the Lord, which made heaven and earth. He will not suffer thy foot to be moved: he that keepeth thee will not slumber. Behold, he that keepeth Israel shall neither slumber nor sleep. The Lord is thy keeper: the Lord is thy shade upon thy right hand.
The sun shall not smite thee by day, nor the moon by night. The Lord shall preserve thee from all evil: he shall preserve thy soul. The Lord shall preserve thy going out and thy coming in from this time forth, and even forevermore.
Psalm 46: 1-11: God is our refuge and strength, a very present help in trouble. Therefore will not we fear, though the earth be removed, and though the mountains be carried into the midst of the sea; Though the waters thereof roar and be troubled, though the mountains shake with the swelling thereof. Selah. There is a river, the streams whereof shall make glad the city of God, the holy place of the tabernacles of the Most High.
God is in the midst of her; she shall not be moved: God shall help her, and that right early. The heathen raged, the kingdoms were moved: he uttered his voice, the earth melted. The Lord of hosts is with us; the God of Jacob is our refuge. Selah. Come, behold the works of the Lord, what desolations he hath made in the earth. He maketh wars to cease unto the end of the earth; he breaketh the bow, and cutteth the spear in sunder; he burneth the chariot in the fire.
Be still, and know that I am God: I will be exalted among the heathen, I will be exalted in the earth. The Lord of hosts is with us; the God of Jacob is our refuge. Selah.
Psalm 143: 8: Cause me to hear thy lovingkindness in the morning; for in thee do I trust: cause me to know the way wherein I should walk; for I lift up my soul unto thee.
Psalm 5: 3: My voice shalt thou hear in the morning, O Lord; in the morning will I direct my prayer unto thee, and will lookup.
POWERFUL MORNING PRAYER POINTS BEFORE GOING OUT.
Thank you father for the miracle of a new day, as I step out this morning, let divine favor locate me in Jesus name

I ask dear father that your pillar of cloud go with me as I go about my daily activities in Jesus name

Sweet father, I ask that my life is preserved from every arrow that flies during the day in Jesus name

Oh Lord, as I step out today, I ask that you give me my daily bread in Jesus name

Good father, I ask that you grant me the grace to overcome every temptation that comes across my path today in Jesus name

Oh Lord, I ask that you send your holy angels to keep me in all my ways today, in Jesus name

Dear father, as I step out today, I ask that you will use people to minister to my needs in Jesus name

Oh Lord I ask for your unspeakable favor today

Today as I step out, I receive unmerited favor from men in Jesus name

I decree that my needs are adequately supplied in Jesus name

I overcome every challenge I am faced with today in Jesus name

Today my needs are supplied in Jesus name

Dear father, as I step out today, I ask that your grace abounds in all areas of my life, in Jesus name

Oh Lord that your mercy and favor be not withheld from me today in Jesus name

I receive unmerited favor from men today in Jesus name

Dear father, I ask that you act as a defender for me today in Jesus name

I decree this morning that the goodness and mercy of God follows me and my business, in Jesus name

Dear father, as I step out today, I decree a stress free and accident free journey today in Jesus name

As I step out today, I receive supernatural help in Jesus name

However difficult the day might look like, I decree that my help comes from the Lord, in Jesus name

Oh Lord, as I step out today, I decree that the work of my hands prospers in Jesus name.

Dear father, However hard the enemy tries today, their thought over my life won't prevail in Jesus name.

I ask dear father that you go ahead of me today and remove every obstacle that will make today a hell for me,

Oh lord, as you lead me not into temptation, similarly deliver me from all evils that may come my way today, in Jesus name

Dear father, I ask that as I go out today, I shall see your good works and deeds in Jesus name

I prophesy into my day this morning that every plot of darkness against my morning backfires in Jesus name.

Oh Lord, I ask that the same way you turned the life of Job around, similarly turn my life around for good this morning, in Jesus name.

Dear father, Just as you gave King Solomon wisdom, similarly, I ask for the wisdom to be able to run the affairs of my life today in Jesus name.

I decree to dear father that my morning is flooded with good news in Jesus' name.

Thank you, father, for the new day, I know each day comes with its blessings, I ask dear father, that the blessings assigned for me today will not elude me in Jesus' name.

I speak to the moon, sun, and stars that they work for my favor in Jesus' name.

Every spiritual wickedness in high places assigned to ruin my day, I pull you down in Jesus' name.

The hands of the Lord will be significantly revealed in my day in the name of Jesus