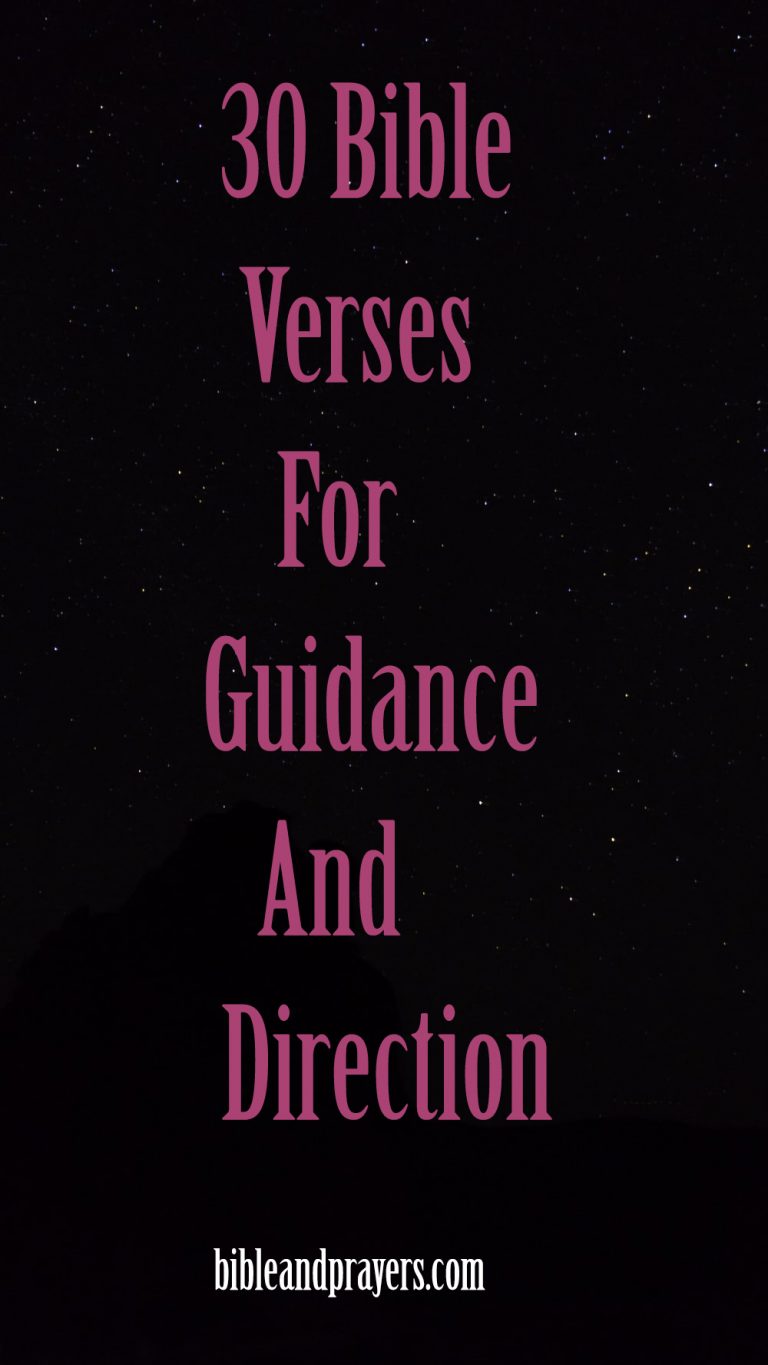 30 Bible Verses For Guidance And Direction
Isaiah 30:21
And thine ears shall hear a word behind thee, saying, This is the way, walk ye in it, when ye turn to the right hand, and when ye turn to the left.
Do you presently seek for God's guidance and direction on a particular issue, or is there an urgent decision you need to make, that you desire to know the thought of God before proceeding? You are on the right page.
Guidance and direction are two major important factors that we must seek daily especially from God: the creator of all things, this is because without God's guidance and direction, one is bound to make mistakes and work in error.
Through lack of direction, many have entered the wrong relationships, many have married wrongly, and several others have invested in the wrong businesses.
Just before you make that important decision of your life, ensure you read through these 30 bible verses for guidance and direction, meditate upon them and prayerfully ask God to show you the way.
Meanwhile, it is important that you know that it is not everybody that will have dreams, see visions, or hear prophecies, all that matters most is, let your heart be filled with the Word Of God, so that when he is speaking through any means he decides to, you can relate it with his Word.
30 Bible Verses For Guidance And Direction
Proverbs 3:5-6 "

Trust in the Lord with all thine heart; and lean not unto thine own understanding. In all thy ways acknowledge him, and he shall direct thy paths".

Psalm 32:8 "

I will instruct thee and teach thee in the way which thou shalt go: I will guide thee with mine eye".

Genesis 28:15 "

And, behold, I am with thee, and will keep thee in all places whither thou goest, and will bring thee again into this land; for I will not leave thee, until I have done that which I have spoken to thee of".

Deuteronomy 31:6 "

Be strong and of good courage, fear not, nor be afraid of them: for the Lord thy God, he it is that doth go with thee; he will not fail thee, nor forsake thee".

1 Corinthians 12:28

"And God hath set some in the church, first apostles, secondarily prophets, thirdly teachers, after that miracles, then gifts of healings, helps, governments, diversities of tongues".

James 1:5-6 "

If any of you lack wisdom, let him ask of God, that giveth to all men liberally, and upbraideth not; and it shall be given him. But let him ask in faith, nothing wavering. For him that wavereth is like a wave of the sea driven with the wind and tossed".

Proverbs 12:26 "

The righteous is more excellent than his neighbour: but the way of the wicked seduces them".

Proverbs 4:11

"I have taught thee in the way of wisdom; I have led thee in the right paths".

Proverbs 11:3

"The integrity of the upright shall guide them: but the perverseness of transgressors shall destroy them".

1 Kings 19:11-12 "

And he said, Go forth, and stand upon the mount before the Lord. And, behold, the Lord passed by, and a great and strong wind rent the mountains, and brake in pieces the rocks before the Lord; but the Lord was not in the wind: and after the wind an earthquake; but the Lord was not in the earthquake: And after the earthquake a fire; but the Lord was not in the fire: and after the fire a still small voice".

Psalm 31:3 "

For thou art my rock and my fortress; therefore for thy name's sake lead me, and guide me".

Philippians 4:13 "

I can do all things through Christ which strengtheneth me"

Matthew 7:7-11 "

Ask, and it shall be given you; seek, and ye shall find; knock, and it shall be opened unto you: For every one that asketh receiveth; and he that seeketh findeth; and to him that knocketh it shall be opened. Or what man is there of you, whom if his son asks for bread, will give him a stone? Or if he asks a fish, will he give him a serpent? If ye then, being evil, know how to give good gifts unto your children, how much more shall your Father which is in heaven give good things to them that ask him?"

Psalm 25:4 "

Shew me thy ways, O Lord; teach me thy paths".

Isaiah 48:17 "

Thus saith the Lord, thy Redeemer, the Holy One of Israel; I am the Lord thy God which teacheth thee to profit, which leadeth thee by the way that thou shouldest go".

Psalm 61:1-2

"Hear my cry, O God; attend unto my prayer. From the end of the earth will I cry unto thee, when my heart is overwhelmed: lead me to the rock that is higher than I".

1 Corinthians 10:13

"There hath no temptation taken you but such as is common to man: but God is faithful, who will not suffer you to be tempted above that ye are able; but will with the temptation also make a way to escape, that ye may be able to bear it".

Isaiah 58:11

"And the Lord shall guide thee continually, and satisfy thy soul in drought, and make fat thy bones: and thou shalt be like a watered garden, and like a spring of water, whose waters fail not".

Psalm 16:7

"I will bless the Lord, who hath given me counsel: my reins also instruct me in the night seasons".

Psalm 25:12 "

What man is he that feareth the Lord? Him shall he teach in the way that he shall choose".

Ephesians 6:10-13 "

Finally, my brethren, be strong in the Lord, and in the power of his might. Put on the whole armour of God, that ye may be able to stand against the wiles of the devil. For we wrestle not against flesh and blood, but against principalities, against powers, against the rulers of the darkness of this world, against spiritual wickedness in high places. Wherefore take unto you the whole armour of God, that ye may be able to withstand in the evil day, and having done all, to stand".

Psalm 23:2 "

He maketh me lie down in green pastures: he leadeth me beside the still waters".

John 14:26 "

But the Comforter, which is the Holy Ghost, whom the Father will send in my name, he shall teach you all things, and bring all things to your remembrance, whatsoever I have said unto you".

Proverbs 1:5 "

A wise man will hear, and will increase learning; and a man of understanding shall attain unto wise counsels"

Psalm 23:2-3 "

He maketh me lie down in green pastures: he leadeth me beside the still waters. He restoreth my soul: he leadeth me in the paths of righteousness for his name's sake".

Psalm 16:7-8 "

I will bless the Lord, who hath given me counsel: my reins also instruct me in the night seasons. I have set the Lord always before me: because he is at my right hand, I shall not be moved".

Isaiah 41:10 "

Fear thou not; for I am with thee: be not dismayed; for I am thy God: I will strengthen thee; yea, I will help thee; yea, I will uphold thee with the right hand of my righteousness".

Jeremiah 3:15 "

And I will give you pastors according to mine heart, which shall feed you with knowledge and understanding".

Psalm 40:8 "

I delight to do thy will, O my God: yea, thy law is within my heart".

1 Kings 22:5 "

And Jehoshaphat said unto the king of Israel, Enquire, I pray thee, at the word of the Lord today".