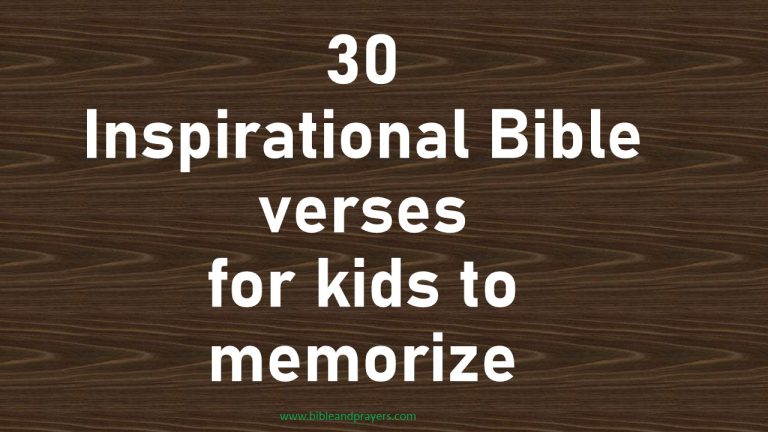 30 Inspirational Bible Verses For Kids to Memorize
As you and your children discuss and memorize God's word and promises, reading the Bible together can be more than just a pleasant, special time for your family. It can also be a crucial practice of discipleship for both of you.
God's Word must be memorized by young people! Children should learn Bible scriptures because of the unpredictability in our environment. The Bible offers solace, encouragement, inspiration, and fortitude. When times are harsh, God's Word provides guidance. Children who learn Bible verses can quickly and easily access God's message in times of need.
Children who memorize Bible verses have strong spiritual connections to God. They understand the worth of God's Holy Voice when they put to memory his word. In the end, youngsters who memorize Bible verses develop their faith. Make learning Scripture a priority in your family and Sunday school.
The following collection of 30 Bible passages can be used as a starting point when you start memorizing the Bible with your children.
30 Inspirational Bible verses for kids to memorize
Psalm 56:3
"What time I am afraid, I will trust in thee."
2. Acts 16:31
"Believe on the Lord Jesus Christ, and you will be saved."
3. Psalm 145:9
"The LORD is good to all."
4. 1John 3:23
"Love one another."
5. Philippians 4:4
"Rejoice in the Lord always. I will say it again: Rejoice!"
6. Colossians 3:2
"Set your minds on things above, not on earthly things."
7. 1John 5:3
"This is love for God: to obey his commands."
8. Romans 3:23
"All people have sinned and come short of the glory of God."
9. Psalm 136:1
"Give thanks to the Lord, for he is good. His love endures forever."
10. Philippians 4:13
"I can do everything through Him who gives me strength."
11. Luke 6:31
"Do to others as you would have them do to you."
12. Colossians 3:20
"Children, obey your parents in everything, for this pleases the Lord."
13. Matthew 19:14
"Jesus said, 'Let the little children come to me, and do not hinder them, for the kingdom of heaven belongs to such as these.'"
14. 1Timothy 4:12
"Don't let anyone look down on you because you are young, but set an example for the believers in speech, in conduct, in love, in faith and in purity."
15. Ephesians 6:1-3
"Children, obey your parents in the Lord, for this is right. 'Honor your father and mother' 
²which is the first commandment with a promise 
³'so that it may go well with you and that you may enjoy long life on the earth.'"
16. John 3:16
"For God so loved the world that He gave His one and only Son, that whoever believes in Him shall not perish but have eternal life."
17. Proverbs 1:8-9
"Listen, my son, to your father's instruction and do not forsake your mother's teaching. They are a garland to grace your head and a chain to adorn your neck."
18. Psalm 127:3
"Behold, children are a heritage from the Lord, the fruit of the womb a reward."
19. Psalms 23:1-6
"¹The LORD is my shepherd; I shall not want.
²He maketh me to lie down in green pastures: he leadeth me beside the still waters.
³He restoreth my soul: he leadeth me in the paths of righteousness for his name's sake.
⁴Yea, though I walk through the valley of the shadow of death, I will fear no evil: for thou art with me; thy rod and thy staff they comfort me.
⁵Thou preparest a table before me in the presence of mine enemies: thou anointest my head with oil; my cup runneth over.
⁶Surely goodness and mercy shall follow me all the days of my life: and I will dwell in the house of the LORD for ever."
20. Psalm 121:1-8
"¹I will lift up mine eyes unto the hills, from whence cometh my help.
²My help cometh from the LORD, which made heaven and earth.
³He will not suffer thy foot to be moved: he that keepeth thee will not slumber.
⁴Behold, he that keepeth Israel shall neither slumber nor sleep.
⁵The LORD is thy keeper: the LORD is thy shade upon thy right hand.
⁶The sun shall not smite thee by day, nor the moon by night.
⁷The LORD shall preserve thee from all evil: he shall preserve thy soul.
⁸The LORD shall preserve thy going out and thy coming in from this time forth, and even for evermore.
21. Genesis 1:27
"So God created mankind in His own image, in the image of God He created them; male and female He created them."
22. John 14:6
"Jesus answered, 'I am the way and the truth and the life. No one comes to the Father except through me.'"
23. John 3:1-3
"¹There was a man of the Pharisees, named Nicodemus, a ruler of the Jews
²The same came to Jesus by night, and said unto him, Rabbi, we know that thou art a teacher come from God: for no man can do these miracles that thou doest, except God be with him.
³Jesus answered and said unto him, Verily, verily, I say unto thee, Except a man be born again, he cannot see the kingdom of God.
24. Psalm 1:1-6
¹Blessed is the man that walketh not in the counsel of the ungodly, nor standeth in the way of sinners, nor sitteth in the seat of the scornful.
²But his delight is in the law of the LORD; and in his law doth he meditate day and night.
³And he shall be like a tree planted by the rivers of water, that bringeth forth his fruit in his season; his leaf also shall not wither; and whatsoever he doeth shall prosper.
⁴The ungodly are not so: but are like the chaff which the wind driveth away.
⁵Therefore the ungodly shall not stand in the judgment, nor sinners in the congregation of the righteous.
⁶For the LORD knoweth the way of the righteous: but the way of the ungodly shall perish.
25. Jeremiah 29:11
"I know the plans I have in mind for you, declares the Lord; they are plans for peace, not disaster, to give you a future filled with hope."
26. Proverbs 15:5
"A fool doesn't like a father's instruction, but those who heed correction are mature."
27. Proverbs 3:5-6
"Trust in the Lord with all your heart; don't rely on your own intelligence. Know Him in all your paths, and He will keep your ways straight."
28. Romans 12:21
"Don't be defeated by evil, but defeat evil with good.
29. Psalm 139:13-14
"You are the one who created my innermost parts; you knit me together while I was still in my mother's womb. I give thanks to you that I was marvelously set apart. Your works are wonderful I know that very well."
30. Deuteronomy 6:5
"Love the Lord your God with all your heart, all your soul, and all your strength."