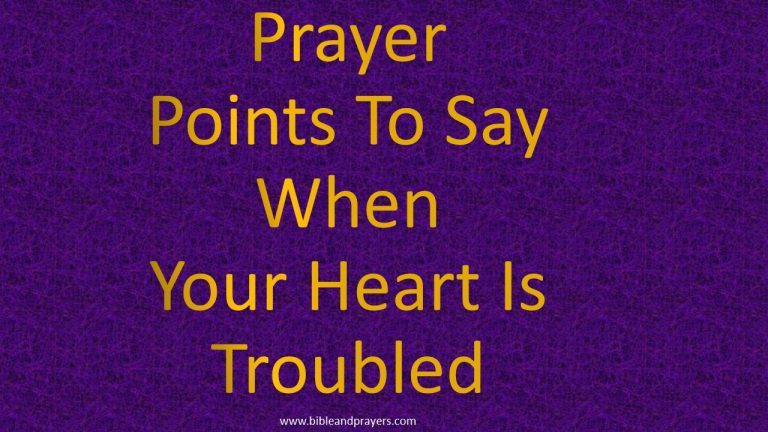 Prayer Points To Say When Your Heart Is Troubled
Mark 4:39 "And he arose, and rebuked the wind, and said unto the sea, Peace, be still. And the wind ceased, and there was a great".
Are you in the middle of a crossroad? Are you worried about the outcome of a  decision you are about to make? Is your heart troubled presently due to the level of insecurity or wickedness in your environment? Here are 30 prayer points to say when your heart is troubled.
The state of been troubled emotionally can be as a result of many issues, it could be due to worry, fear, anxiety, depression, etc, it can also be as a result of the loss of a loved one, the loss of one's major source of livelihood or loss of a relationship
However when your heart is deeply troubled, let your mind be on the Word of God, His words are reassuring, it guarantees you of hope even in the midst of an hopeless situation, it assures you of safety even in the midst of insecurity, and renewed strength in your lowest estate. 
Therefore, you must endeavor to meditate on the Word of God whenever your heart is heavily troubled due to an event or circumstance that's beyond your control.
Meanwhile, in some cases, when you can not find any physical reason whatsoever to be troubled yet it seems like your heart has lost every iota of peace, then it could be the powers of darkness that are trying to toil with your peace of mind (John 10:10), and because it is totally against the will of God concerning you which says: 
"Peace I leave with you, my peace I give unto you: not as the world giveth, give I unto you. Let not your heart be troubled, neither let it be afraid" (Matthew 14:27)
you need to pray these prayer points to say when your heart is troubled, with all your heart.
As you pray wholeheartedly, may the Lord cause peace to be restored into your heart and life, may every source of trouble in your life be destroyed totally in Jesus mighty name.
Let's proceed to the prayer points to say when your heart is troubled
Prayer Points To Say When Your Heart Is Troubled
Father I thank you for your grace and your mercy upon my life and my family, blessed be your name oh Lord

Father I thank you for your great mercy upon my life and my family, to you be all the glory and honor in the mighty name of Jesus Christ

Lord I bless you for you are good in all your ways and your faithfulness is forever sure

Blessed be your name Lord for daily loading me with benefits, be thou magnified in the mighty name of Jesus Christ

Lord I thank you for keeping me and my family safe from all evils, all glory to you Lord

Father I ask for your mercy in all ways I have sinned and fallen short of your grace, please forgive me Lord

Father please show me mercy for all I have done against your will for my life in Jesus name

Lord I ask that you restore peace to my heart by your mercy in the mighty name of Jesus Christ

Father I ask that you forgive me in all ways I have engaged in activities that took away my peace, let your mercy speak for me Lord

Father I ask that you fill my heart with your overwhelming peace in the mighty name of Jesus Christ

Lord please take away every fear, and anxiety out if my life in the mighty name of Jesus Christ

Lord I pray that everything the enemy is doing to make me fear unnecessarily is destroyed now in the mighty name of Jesus Christ

Every seed of unbelief and doubt in my heart, I command it to die by fire in the mighty name of the Lord

I decree that the situation around me will not turn me into a fearful person in the mighty name of Jesus Christ

I rest on the Word of God which says I shall not be afraid of the terror by night nor of the arrow that fly by day in the mighty name of Jesus Christ

I receive the ministration and intervention of angels from Jehovah Sabaoth to abide with me and my family in the mighty name of Jesus Christ

I rebuke every demon of fear assigned against me and my family in the mighty name.

I shall no longer be afraid of the future in the mighty name of Jesus

I reject every evil dream projected against my peace and wellbeing, it shall not stand neither shall it come to pass in Jesus mighty name

Every thought of the wicked against me shall not stand in the mighty name of Jesus Christ

I begin to walk in the reality of my victory over fear and anxiety in the mighty name of Jesus Christ.

Because God is for me, whosoever shall stand against me shall be destroyed totally in the mighty name of Jesus here

My health is restored now and forever in the mighty name of Jesus Christ

All that I have been deprived of because of fear, I take them now in the mighty name of Jesus Christ

I come out of every thought of the events in my past in the mighty name of Jesus Christ

I apply the blood of Jesus Christ to my thought process, they shall not bring me fear and panic in the mighty name of Jesus Christ

Every association I belong to that introduces more fear into my life, I separate myself from it now by fire in the mighty name of Jesus Christ

I come against every altar of darkness devising evil against me in the mighty name of Jesus Christ

I decree peace be still to every storm raging in my life and in my family in the mighty name

I decree that my heart shall no longer be overwhelmed by the issues of life in Jesus mighty name

I receive grace to build the capacity to trust in God more In every situation of life in the mighty name of Jesus Christ.

I receive the grace to withstand the devil and resist him in every way he tries to afflict me in the mighty name of Jesus Christ

I decree that I shall spend all my days in peace and in great joy in the mighty name of Jesus Christ

In the mighty name of Jesus Christ, the plans of the enemy to take away my peace again shall not stand in the mighty name of Jesus Christ

Thank you Jesus for answering my prayers