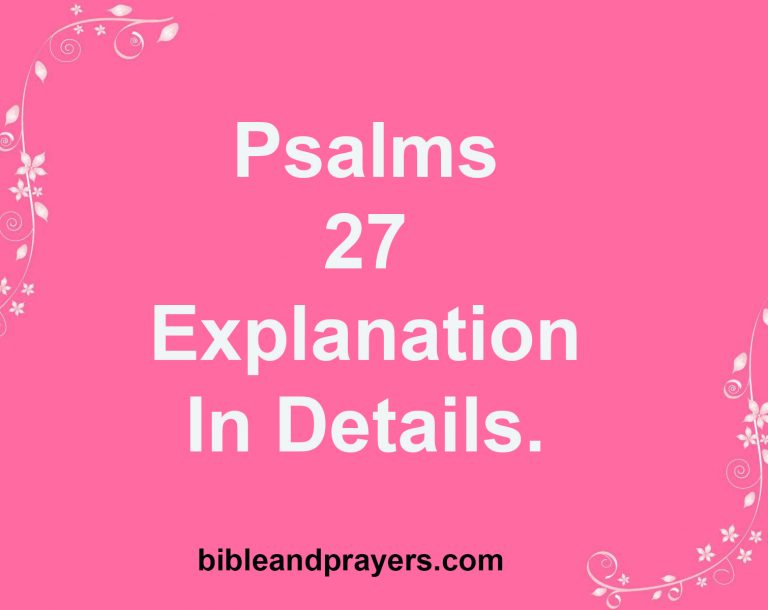 Psalms 27 Explanation In Details.

INTRODUCTION
Psalms 27 is more than just a poem and or a song, it is an expression of the life experience of a man who passionately declared his loyalty to God as his light in his dark times… (Psalms 27:1)
It is also an expression of a man who had total confidence in God even in the face of his real and unreal fears….
* Real fears comes to us when we are in the midst of a pandemic. E.g when David had an enemy encamped around him in 1st Samuel 26:5.
* Unreal fears are some fears that hold some kind of powers over us. It makes us less than who God wants us to be. It robs us of dignity and courage and makes us act in ways that are not worthy of us.
By the virtue of the writer's (David's) absolute confidence in God, he was able to overcome his fears. He gave all credibility to God and not to his fears.
His trust in God melted all forms of fears.
EXPLANATIONS IN DETAILS.
Psalms 27:1- The Lord is my light and my salvation, whom shall I fear?
Part1. (Psalms 27:1a)
"The Lord is my light…."…..
David saw God more than "a giver of light" He saw God as light himself… Light can only shine when there is darkness. So, our dark situations are opportunities for God to reveal Himself as our light.
In dark situations, there is confusion, sorrow, fears, emotional pains and all.
David moved from one unpleasant situation to another. From example, the event with Bathsheba and Uriah in 2nd Samuel.
Though the darkness was thick enough to be felt with the hands, God the light appeared with needed instructions through prophet Nathan to bring David out of the darkness.
Part 2 (Psalms 27:1b)….
"…and my salvation "
In God, David was "safe" and "save" in and from dangers.
In David's frequent communion with God, he received his early and timely salvations.
Psalms 27:2
"The Lord is the strength of my life, of what shall I be afraid "
In life, disappointments, death of a loved one, unanswered prayers, lack and all can sap the strength of the Christian's inner man…
This can usher one into depression realm…
Through God's Word and His Spirit, Christians become strengthened with might in their inner man… (Ephesians 3:16b)…
Verse 3…."When the wicked, even my enemies and my foes came upon me to eat up my flesh, they stumbled and fell"…..
David had an assurance that God was more than enough to handle his enemies. He never revenged on his enemies even when he had the opportunity to do so. (1st Samuel 24:4-6)
Verse 4: "One thing have I desired of the Lord, that will I seek after : that I may dwell in the house of the Lord, all they days of my life, to behold the beauty of the Lord, and to inquire in His temple"
"The house of the Lord" is not physical…. It is in the Spirit realm. It is God's presence. God's presence represents His splendor, sweetness, glory, pleasantness and more…. In His presence, we receive spiritual refreshment from life's turmoil.
Verse 5: "For in the time of trouble, he shall hide me in His pavilion : in the secret of His terbanacle, shall He hide me: He shall set me up upon a rock
David means he finds refuge in God's presence .
"The secret of God's terbernacle" represents "the altar" where David had personally raised to meet God. God met David there.
Verse 6: "And now shall mine head be lifted up above my enemies round about me"
David had previously experienced God as the
"Lifter up of his head" in Psalms 3:3b.
This gave his heart peace that God who has done it before could do it again.
He used his past testimonies of God to claim future victories.
And this victory would surely be celebrated with sacrifices of joy and Thanksgiving.
Verse 7: " Hear, O, Lord, when I cry with my voice: have mercy also upon me, and answer me"
David pled with God for answers to his prayers in his now and his future.
Verse 8: " When thou said, seek yeah my face: my heart said unto thee, thy face, Lord, will I seek".
This was a promise of loyalty to God. David's heart was strongly connected to God's heart such that information from God flowed freely into David's heart.
This made God to love him specially and dearly….
The reason behind God's confession about David that he was "a man after my own heart"
Verse 9: " Hide not thy face far from me: put not thy servant away in anger: thou has been my help, leave me not, neither forsake me, O, God of my salvation".
Verse 11….
"Teach me thy way, O Lord, and lead me in a plain path, because of mine enemies "
God was David's source of guidance and direction in life. He never made any decision outside God's permission.
Verse 12:
"Deliver me not over until the will of mine enemies: for false witnesses are risen up against me, and such as breathe out cruelty"….
Here, David pled with God not to allow his enemies' desires to come to pass in his life and God granted him.
Verse 13…
"I had fainted, unless I had believed to see the goodness of the Lord in the land of the living".
Verse 14:
"wait on the Lord, be of good courage, and he shall strengthen thine heart: wait, I say, on the Lord"
This is a very beautiful encouragement to all believers to wait on God for strength to persevere in hard times.